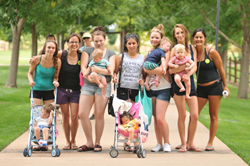 YoungLives is a one-on-one mentorship. We offer a way to help teenage mothers meet others in their situation and not feel isolated.
Past News Releases
WESTMINSTER, Md. (PRWEB) December 20, 2017
Young Life's new ministry aimed at teenage mothers called YoungLives will officially launch in Carroll County on January 1, 2018, but has been a product of several years of planning and prayer. "We are so excited to bring this ministry to Carroll County to serve a population of teenagers that is so often overlooked and written off," said Young Life Area Director Matt Michael.
Young Life, an international organization, believes in the power of presence, and that kids' lives are dramatically impacted when caring adults come alongside them, sharing God's love with them. Young Life's multicultural ministry, which already includes a ministry in Carroll County focused on reaching teenagers with special needs called Capernaum, is arguably the largest of its kind in the United States.
Through the new YoungLives ministry, pregnant or teenage mothers in Carroll County will receive emotional, spiritual and practical support while learning parenting skills from those who have walked the road already. "YoungLives is a one-on-one mentorship. We offer a way to help teenage mothers meet others in their situation and not feel isolated," said Kristy Streett, Young Life Carroll County's new YoungLives Coordinator. "We already have a group of six trained mentors and are now excited to get the word out about the ministry as we raise additional support for it and begin to connect these mentors with teen moms."
For more information about Carroll County YoungLives and to learn how you or a teen mom you know can be involved in this life-changing ministry, please contact Kristy Streett at (443) 821-0383 or kstreettyounglives(at)gmail(dot)com, or go to http://carrollcounty.younglife.org/.
About Young Life
Young Life doesn't start with a program; it starts with adults concerned enough about kids to go to them, on their turf and in their culture, building bridges of authentic friendship. Everyone is welcome in Young Life. Its programs are custom made for kids throughout their adolescent years. For more information, please call (443) 340-9405, or visit http://www.carrollcounty.younglife.org.
About the NALA™
The NALA offers small and medium-sized businesses effective ways to reach customers through new media. As a single-agency source, the NALA helps businesses flourish in their local community. The NALA's mission is to promote a business' relevant and newsworthy events and achievements, both online and through traditional media. The information and content in this article are not in conjunction with the views of the NALA. For media inquiries, please call 805.650.6121, ext. 361.
Share article on social media or email: