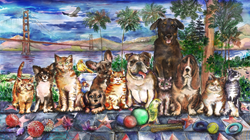 We are doing something totally unique here, and hosting an event that has never been pursed on this scale before. Anyone can be part of it, and every pet can have their story told through it – forever. It will be a living, breathing world record and social network for pet lovers
GRANITE BAY, Calif. (PRWEB) December 14, 2018
The pet mosaic, the first event of its kind, will enable anyone to take part through a photo submission that will be there forever, searchable and shareable, with the pet's story, name, and keywords associated with each submission.
Seretskiy is using unique technology to make this kind of database possible. That way, those that participate will have an immortalized memory of their pet that lives on forever.
Through the money reserved on the record-setting event's Eventbrite page, the plan is to open sustainable animal clinics in at least 6 metropolitan California regions: Sacramento, Bay Area, Fresno/Central California, Los Angeles, Orange County, and San Diego.
"Thousands of sick pets are unable to receive the medical and surgical attention they need every single year; as a result, owners are faced with their worst nightmare, as finances get in between their bundles of joy," said Seretskiy. "That's why we are proposing free animal veterinary services for the future. We can pay the surgeons to perform an average of 5 to 10 procedures per day, or 100 to 200 per month. Therefore, surgical care can be given to approximately 200 pets and owners that desperately need the support every month"
To take part, visit the campaign's Eventbrite page and register to be part of the world record. Aiming to hit 1 million photos, the faster the event reaches the goal, the faster it can open the upload window. Email notifications and social media updates will be pushed out to keep everyone abreast on the timeline.
"The statistics don't lie: $16.6 billion was spent on pet care in the U.S. alone last year," said Seretskiy. "It can happen to you. We're proposing a new compassionate care model. Be part of something world-breaking."
In 2017, Seretskiy organized a 2017 event where over 300,000 photographs were including in a mosaic honoring the 479th anniversary of Kishinev, Moldova. Seretskiy immigrated to the U.S. 23-years ago from the Soviet Union with his dog, Sindy, and immediately developed a compassion and understanding of animals that he wants shared with as many people as possible.
Share article on social media or email: