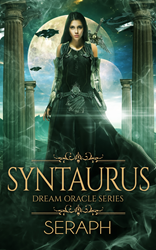 "You were created a child of light's wonderful secret; you return to the beauty you have always been." Seraph
SAN ANTONIO (PRWEB) May 06, 2018
Dream Oracle Series: Syntaurus – The inspiration for 'Syntaurus' came from the movie 'Wonder Woman' her origin story. In the movie, the viewer feels with Wonder Woman as she risked the challenges of her community and jeopardized her relationship with her Mother to follow her heart in battling the evil of Ares. Many people can relate to these types of experiences in their own lives. Kronos, a demi-god of war in 'Syntaurus,' is based on the movie's god of war Ares, who symbolizes the worst in life's challenges. Captain Steve Trevor represents the human struggle of doing what is right and making difficult choices in love. In this viewpoint, everyday persons are dealing in amazing manners with overwhelming unexpected life challenges.
In the adult Sci-Fi novel 'Syntaurus,' women of strength and the men who love them are inspired from the 'Wonder Woman' movie. The Sci-Fi novel's women are of strength, convictions, facing male dominated challenges, and deal with personal sacrifice. The male characters of the Sci-Fi novel demonstrate the challenges men pose to women as well some special men who love these inspiring, challenging women. The 'Syntaurus' hero women and men show amazing strength and resolve in going up against fantastic challenges. The Sci-Fi novel's women and men characters overcome overwhelming challenges, to find a way to love, grow in that love, and give of themselves to others. 'Syntaurus' is written with the inspiration of the 'Wonder Woman' movie to create a world where the human ability to love and conquer unexpected challenges that can befall anyone.
A quote from the Sci-Fi novel 'Syntaurus' is, "You were created a child of light's wonderful secret; you return to the beauty you have always been." The character Wonder Woman being the inspiration for this quote, as she discovered who she truly was and the challenges she faced in going into the unknown outside of her protective community. This brings about reflecting upon those amazing women and men who discover who they really are amidst life's unexpected challenges. The Syntaurus characters are based upon these type of persons known well by many as those who have faced real life challenges, faced real emotional and physical pain, dealt with real impossible dreams, and struggled with their real nightmares. The Adult Sci-Fi novel 'Syntaurus' provides the means to write about these real women and men's heroic life journeys and to create a world where these persons found their healing. How they found support from others. How they found strength from within to deal with overwhelming challenges. How they found strength in love. How they found strength in something greater than themselves. The novel borrows from real persons' experiences in life to construct the characters engaged in a fantastic challenging adventure in the Sci-Fi novel of 'Syntaurus.'
Contact
If you would like to receive a $2.99 discounted copy of 'Dream Oracle Series: Heralds Syntaurus,' for review, to interview Seraph, please visit https://www.smashwords.com/books/view/758114
$2.99 E-book can be read with iBooks on your Mac or iOS device by visiting https://itunes.apple.com/us/book/dream-oracle-series-syntaurus/id1309922097?mt=11
$2.99 Barnes and Noble [The temple maidens have information that the demi-god Kronos plans to kill the Dream Oracle and all with her in order to use their powers for conquering the temple maidens' planets and the universe. Time is running out for the people of Syntaurus and the universe if Kronos can't be stopped. Dream Oracle Series: Syntaurus by Seraph is published by http://www.smashwords.com/profile/view/serfer99 on November, 2017 in pdf, txt, ePub, Mobipocket and a variety of formats compatible with Kindle, Sony, iPad and other readers.
Share article on social media or email: