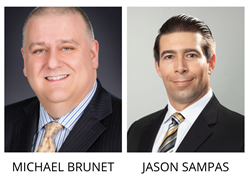 "I am excited to join a team of professionals who enjoy a stellar reputation for providing outstanding client service, and hope that I can add to and enhance the firm's reputation." - Michael Brunet
LOS ANGELES (PRWEB) July 19, 2021
Wolf, Rifkin, Shapiro, Schulman & Rabkin, LLP is pleased to announce that attorneys Michael Brunet and Jason Sampas have joined the firm. Mr. Brunet will be a partner in the Business Transactions & Corporate Law practice group in the Las Vegas office. Mr. Sampas will be an associate in the Business Transactions & Corporate Law and Real Estate Law practice groups in the Los Angeles office.
Mr. Brunet brings broad practice experience to the firm in corporate law, commercial transactions, gaming, real estate law, complex commercial bankruptcy, labor and employment, and intellectual property and entertainment law.  His practice has focused on representing owners, operators, and investors in industry-leading hotels, casinos, nightclubs, restaurants, bars, and lounges. Prior to joining the firm, Mr. Brunet was in-house counsel for Station Casinos, Tropicana Entertainment, The Light Group, Affinity Gaming, Palms Casino Resort, and Gameco The Video Game Casino, and advisor to investors in Lucky Dragon Hotel & Casino (Snow Covered Capital) and to the executive management of San Manuel Casino (Highland, Ca).  Mr. Brunet received his J.D. from Georgetown University Law Center, Washington D.C., his M.F.A. from the American Film Institute, Los Angeles, and his B.A. in English from the University of Nevada, Las Vegas. 
"The firm and I form a uniquely good fit for my diverse personal and professional background. I am excited to join a team of professionals who enjoy a stellar reputation for providing outstanding client service, and hope that I can add to and enhance the firm's reputation for excellence and success," said Mr. Brunet.
Mr. Sampas' practice focuses on real estate, general business transactional matters, and related tax matters. In addition to being a California and Florida licensed attorney, Mr. Sampas is a licensed California CPA. His accounting, business, legal, and tax background allow him to assess each client's unique situation from a multitude of perspectives, evaluating not only the task at hand but ensuring that each project helps the client achieve their desired long-term goals as well. Mr. Sampas received his J.D. with a business concentration from California Western School of Law, San Diego, his LL.M. in Taxation from the University of San Diego School of Law, his M.S. in Accountancy with an Emphasis in Taxation from San Diego State University, and his B.S. in Accountancy from San Diego State University. 
Mr. Sampas, Esq. and CPA, said, "They say the most important thing about real estate is location, location, location, but when it comes to finding a job where you are truly happy, and a driving reason I chose this firm, it is the people, the people, the people."
ABOUT WOLF, RIFKIN, SHAPIRO, SCHULMAN & RABKIN, LLP
Wolf, Rifkin, Shapiro, Schulman & Rabkin, LLP was founded in 1977 and is comprised of over 45 lawyers, with offices in Los Angeles, Las Vegas, and Reno. Our attorneys are dedicated to providing high-quality legal services to individuals and businesses.
Linkedin: https://www.linkedin.com/company/wolf-rifkin-shapiro-&-schulman-llp/
Facebook: https://www.facebook.com/wrslawyers
Los Angeles Office
11400 West Olympic Boulevard
Ninth Floor
Los Angeles, California 90064-1582
310-478-4100
Las Vegas Office
3773 Howard Hughes Parkway
Suite 590 South
Las Vegas, Nevada 89169
702-341-5200
Reno Office
200 South Virginia Street
Suite 470
Reno, Nevada 89501
775-853-6787
Share article on social media or email: