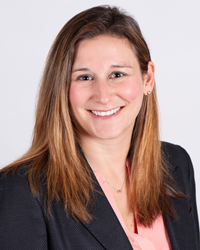 PHILADELPHIA (PRWEB) August 07, 2019
Philadelphia labor, employment, and workers' compensation law firm Willig, Williams & Davidson is pleased to announce that attorney Jessica Kolansky has joined the firm.
Kolansky concentrates her practice on finance-related issues on behalf of consumers, primarily residential foreclosure, consumer lending, and bankruptcy. As a litigator, she has represented clients in state and federal courts, with a primary focus on matters involving residential mortgage lending, commercial lending, and consumer finance, including claims arising under the Truth in Lending Act (TILA), Real Estate Settlement Procedures Act (RESPA), and the Fair Credit Reporting Act (FCRA). She has successfully negotiated and obtained loan modifications for numerous borrowers to allow them to remain in their homes.
A passionate advocate for those affected by kidney disease, Kolansky is a member of the National Kidney Foundation's patient advocacy and engagement program, the Kidney Advocacy Committee. After donating a kidney to her father in 2014, she became an advocate for congressional funding for research to treat and prevent kidney disease.
Kolansky earned her law degree from Rutgers Law School. She participated in the Child and Family Advocacy Clinic as a student law guardian; the Appellate Advocacy Moot Court; the pro bono bankruptcy project; and as a certified New Jersey mediator. She holds a bachelor's degree from Davidson College.
About Willig, Williams & Davidson – Willig, Williams & Davidson (http://www.wwdlaw.com) is one of the largest and most respected union-side labor law firms in the United States. The firm has offices in Philadelphia, Jenkintown and Harrisburg, Pa., as well as Haddonfield, N.J., and Chicago, Ill. Founded in 1979, Willig, Williams & Davidson focuses on representing labor unions, employee benefit funds and individual working people and their families on a variety of legal fronts, including national, regional and local contract negotiations; dispute resolution through mediation, arbitration and litigation; tax and benefit law compliance issues; discrimination and other employment matters; prepaid legal services for union members; and workers' compensation matters in Philadelphia and beyond.
Share article on social media or email: