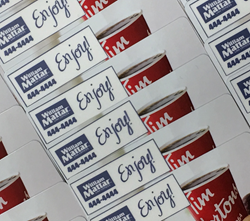 'We are always focused on helping people and being a positive force in the community. This is a great way to do something fun and inspire more kindness.' - William Mattar, car accident attorney
Buffalo, NY (PRWEB) September 22, 2017
No one knows when or where they will appear. Over 100 William Mattar Acts of Kindness staff are traveling throughout Western New York with Tim Horton's gift cards and will be randomly handing them out. An action that will not only make that person's day, but hopefully inspire them to pay it forward.
Continually focused on helping people and having a positive impact on the community, William Mattar decided that sharing these surprises would not only be fun for the recipients, but for the team members handing them out as well. Seeing a stranger's face light up from a kind act is a wonderful feeling. Holding a door open, letting someone merge into a lane in busy traffic, or just smiling and saying 'thank you' can spark positive energy which are things anyone can do. Everyone has the amazing power to brighten someone's day with their own acts of kindness.
About William Mattar, P.C.
William Mattar founded the law firm in 1990, which now helps those seriously injured in car, truck and motor vehicle accidents. In addition to the William Mattar Acts of Kindness campaign, the firm stays actively involved in community events and has established a number of programs and initiatives such as the William Mattar Buckle Your Belt Campaign, Pencils 4 Schools, Rescue a Shelter Animal and the William Mattar Safe & Sober Free Ride Home Program. Fostering a culture of community and family, the firm has been named to the Best Companies to Work For in New York State for 2017. Learn more about what to do after a serious injury car accident, or to learn more about William Mattar's positive community impact, visit http://www.williammattar.com or call 444-4444.
Share article on social media or email: