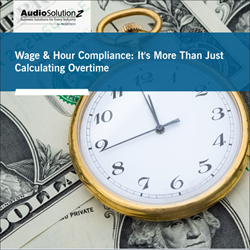 Investing in understanding of payroll law requirements now can save hefty fines in the future.
DURHAM, N.C. (PRWEB) November 05, 2018
AudioSolutionz, a division of audio conference and corporate education leader ProEdTech, will host a live, 100-minute Virtual Boot Camp titled "Wage & Hour Compliance—It's More Than Just Calculating Overtime" with Vicki M. Lambert on Wednesday, November 14, 2018.
Wage and hour law violations can be detrimental—and costly—to any company. In FY2015 alone, 79% of agency-initiated investigations resulted in costly violations exceeding $246 million! But compliance is a challenge because there are so many regulatory details to get right. Investing in understanding of payroll law requirements now can save an organization hefty fines in the future.
In this information-packed webinar, payroll expert Vicki M. Lambert will explain the ins and outs of Department of Labor (DOL) wage and hour requirements. She'll explain federal, state, and youth minimum wage; teach attendees how to calculate overtime pay (per overtime calculation rules) and handle travel pay; and decode all the terminology set forth by the Fair Labor Standards Act (FLSA). Lambert will also demonstrate what to do when state and federal law differ. Plus, she'll define what constitutes a workweek and "hours worked."
After attending this wage and hour compliance update webinar, attendees will understand how to comply with both federal and applicable state wage and hour law as it pertains to payroll preparation. They'll know how to handle numerous employee wage situations, such as rules about payroll frequency, lunch breaks, and rest periods. In addition, they will get clued into recently instituted local regulations related to payroll requirements.
Session Highlights
This in-depth 100-minute wage and hour compliance update webinar will teach attendees how to:
Get current with wage and hour compliance updates
Master wage and hour payroll requirements (federal & state)
Understand federal, state, and youth minimum wage
Calculate gross and overtime pay (per overtime calculation rules)
Understand FLSA terminology (e.g. overtime, hours worked)
Create a compliant paystub
Account for tip, board, and lodging credits
Pay for travel time
Understand what FLSA covers—and what state rules apply
Resolve conflicts between FLSA and state law
Handle union contracts
Define a regular rate of pay
Handle meal and rest periods
Pay terminated employees
Pay out accrued vacation time
Who Should Attend
Payroll professionals
Human Resources professionals
Accounting personnel
Business owners
Lawmakers
Attorneys
For more information and to register for this coding boot camp, visit: https://www.audiosolutionz.com/hr-compliance-employment/wage-hour-compliance-calculating-overtime.html
Get $40 off on our conferences and webinars. Use Code PRWEB40 on checkout (applicable for all purchases).
About ProEdTech
ProEdTech is a leading source of knowledge and training for professionals in over 15 industries, serving individuals, businesses and their employees around the globe. It offers webinars, online conferences, seminars, boot camps, books, DVDs, white papers, industry reports and other learning tools from industry experts and insiders who provide a fresh perspective on key issues, trends and regulations in order to simplify governance, risk and compliance (GRC) for enterprises and industry professionals. ProEdTech's AudioEducator webinars offer updates, regulatory knowledge and information on the latest news in various medical specialties, as well as coding and billing updates, and analysis of regulations that affect ambulatory surgical centers, home health, long term care and hospice facilities, hospitals and healthcare systems, health insurers and physician practices. ProEdTech's Eli Financial platform offers tax and banking professionals, focusing on providing high-quality online training products customized for U.S. lenders and tax practitioners that include the latest updates from the IRS, CFPB and other regulatory authorities. Webinars are also offered through AudioSolutionz in the technology, human resources, construction and housing, ICT and telecom, manufacturing, consumer packaged goods and retail, safety and security, transportation, energy and environment, education, trade, and chemicals industries. ProEdTech regularly provides professionals the opportunity to get answers to their most complex questions directly from experts, without having to attend costly live conferences. To learn more, visit: http://www.proedtech.com/.
Share article on social media or email: