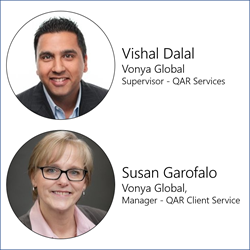 I am thrilled to expand our QAR service team. Both Vishal Dalal and Susan Garofalo have proven their QAR skills and shown a commitment to quality. It is a privilege to have them join the team.
CHICAGO (PRWEB) September 10, 2019
Vonya Global has witnessed an increase in the demand for Internal Audit Department Quality Assurance Review ("QAR") services and has expanded its core team. Vishal Dalal joined Vonya Global in June 2017 as a Manager of Audit Services and will now be responsible for supervising the delivery of QAR services. Susan Garofalo joined the firm in August 2018 and will now serve in the role of QAR Project and Client Service Manager.
The Internal Audit Department Quality Assurance Review is a requirement of the Institute of Internal Auditors' ("IIA") International Standards for the Professional Practices of Internal Auditing ("Standards") and the related International Professional Practices Framework ("IPPF"). The IIA is an international professional association (185,000 members) which acts as a global advocate for the internal audit profession. The organization has defined 42 standards classified as either Attribute Standards (addresses the attributes of organizations and individuals performing internal auditing) and Performance Standards (describes the nature of internal auditing and provides quality criteria against which the performance of these services can be measured). Internal Audit departments are required to adhere to the Standards while fulfilling their obligations.
The Standards state that external assessments must be conducted at least once every five years by a qualified, independent assessor from outside the organization. These assessments may take one of two forms: the External Quality Assessment ("EQA") or the Internal Audit Self-Assessment with Independent Validation ("SAIV").
External Quality Assessment - The EQA is simply a QAR completed entirely by an external party. The external team will collect and review information within a pre-determined scope to evaluate adherence with the IIA Standards.
Self-Assessment with Independent External Validation - The SAIV is a QAR completed by the Internal Audit Department and validated by an outside third-party. For the self-assessment, the internal assessor must follow the same approach as the external assessor in order to form an opinion. Once the internal assessor completes the evaluation, a qualified external party validates that the self-assessment was complete, thorough, and the opinion was accurate.
In addition to the above, an Internal Audit Department can request a supplemental benchmarking analysis where the third-party assessor compares the internal audit department to other audit departments of similar organizations.
An Internal Audit Department may also request an Internal Audit Department Maturity Assessment. The maturity assessment illustrates the levels and stages through which an internal audit department can evolve as it defines, implements, measures, controls, and improves its processes and practices. The result provides a road map for continuous improvement.
Vonya Global employs a QAR task force that has completed numerous EQAs and SAIVs for various organizations and the team has completed QARs since 2004. Vonya Global's methodology and templates follow the IIA's QA guidelines and QAR tools. This allows Vonya Global QAR task force to perform QARs quickly yet effectively, as well as provide organizations with best practices and performance measures for continuous improvement of their internal audit functions.
Vonya Global Managing Partner, Steven Randall stated: "I am thrilled to expand our QAR service team. It is important for internal audit functions to demonstrate adherence to the IIA Standards. Our team provides this service to our clients in an efficient and cost-effective manner. Both Vishal and Susan have proven their QAR skills and shown a commitment to quality. It is a privilege to have them join the team."
About Vishal Dalal: Vishal Dalal is an Internal Audit leader with over 15 years of experience providing risk management and internal audit consulting services. He has previously worked for KPMG and PwC and his experience includes Accounting, Finance, and Regulatory Compliance in retail, healthcare, insurance, manufacturing, professional services, and financial services. His responsibilities and accomplishments have included completing internal audit assignments around the world, executing implementation strategies for Section 404 of the Sarbanes-Oxley Act of 2002, executing comprehensive risk assessment processes, and presenting the results of audit work to executive management. He has a depth of experience auditing all financial reporting cycles and data analytics experience.
About Susan Garofalo: Susan Garofalo is an experienced Internal Auditor and Fraud Investigator with a diverse background encompassing finance, sales, operations, customer service, and loss prevention. She has worked in oil & gas, C-store retail and franchising, mass retailing, real estate, financial services (leasing), manufacturing, and healthcare. Susan has over 20 years of experience, 8 of those were spent in the Internal Audit Department of a large multi-national oil and gas company where she was responsible for both leading and participating in financial, operational, process, compliance and safety audits.
About Vonya Global: Founded in 2007, Vonya Global is a management consulting firm that provides internal audit, corporate governance, compliance, and risk management services to corporations, organizations, and institutions worldwide. The firm's core services are centered around evaluating risk management practices and internal control activities in financial reporting, information technology, operations, and compliance. Vonya Global's experienced and tenured consulting teams combine business insight with a systematic and disciplined approach to improve business operations, streamline transaction processing, and promote long-term sustainability.
Share article on social media or email: