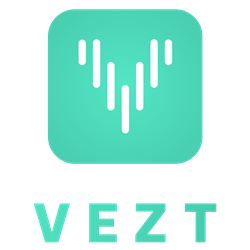 "You get ownership of the song and you get to participate in the IP." - Robert Menendez
Los Angeles, CA (PRWEB) October 13, 2017
Bringing blockchain technology to the music industry, Steve Stewart and Robert Menendez appeared on the Cheddar financial news network from the floor of the New York Stock Exchange on October 11, 2017 to talk about their music monetization platform Vezt. This platform enables artists to monetize and share ownership of their songs with music fans and rights-buyers on a song-by-song basis. The interview can be viewed https://cheddar.com/videos/a-stock-market-for-songs.
"You get ownership of the song and you get to participate in the IP," explained Menendez, noting that Vezt does not rent or license access to a song. "Vezt allows the fan base to participate so an artist can continue making music. If the fans want to finance and continue to put money in to work with the artist, they now can do that in a very direct relationship."
Stewart also talked about the special relationship between artist and fan, calling Vezt an "organic way" for both to connect. "Vezt allows people to connect with their favorite music and their favorite artist in an emotional way."
When asked about the price point for a song, Stewart explained how artists remain in control of the process. "The range is set by the artist and we let them control that. They can do a raise of $1,000, $10,000, $100,000, whatever they want. Fans buy a fraction of the song."
The interview can be watched in its entirety at https://cheddar.com/videos/a-stock-market-for-songs. Vezt can be found at http://vezt.co. Co-founders Steve Stewart and Robert Menendez are available for interviews immediately.
About the Co-Founders
CEO Steve Stewart has more than 25 years of professional experience in the music, and new media industries. As CEO of Steve Stewart Management, he negotiated and secured lucrative major label record and publishing contracts on behalf of approximately 20 recording artists with companies such as Sony Music, Warner Bros. Records, Atlantic Records, Capitol Records, Disney's Hollywood Records, A&M Records, Geffen Records, Elektra Records, American Records, Maverick Records, EMI Music Publishing, Famous Music Publishing, Rondor Music, Warner Chappell Music Publishing and Universal Music Publishing. Steve is the former personal manager of Grammy Award winning, multiplatinum alternative rock band Stone Temple Pilots, managing their career from their inception through their fifth major label release on Atlantic Records. Under Steve's management, the band's worldwide record sales exceeded 25 million records, generating more than $500 million in gross revenues. He has held Co-Founder and COO titles at business marketing aggregator, GoYodel, and sports social video app, SportsBuddyz, and helped establish crowdcasting startup, SURKUS, as their Head of Business Development, securing long-term corporate clients such as Live Nation. Steve has BA in Political Science from UCLA.
COO Robert Menendez has more than 15 years of management experience and an expertise in developing business and financial platforms for long-term growth. Menendez is attuned to the complexity of the technology space, with a particular acumen for navigating the competitive landscape to make lasting changes that affect the bottom line. Prior to co-founding Vezt, Menendez managed all facets of operations at Newmax Advisors, LLC, where he successfully created fiscal synergy for investors by coordinating algorithmic trading teams primarily made of programmers and developers managing account platforms. Menendez began his career at Oppenheimer & Company, and then promptly moved to CA to become Co-Founder of Tradestar Capital, Ltd., a prop trading firm and subsidiary of Assent Trading. His ability to spot high quality talent and personally stock each subdivision with high performing individuals enabled him to build each of the five branches, in five different cities, of Assent Trading into fully operational and profitable units. Following Assent Trading, Menendez was instrumental in the launch of Coastal LLC, a quantitative fund for which he raised both trading and operational capital. Menendez's talent for easily cross-pollinating technology and funding led to a partnership at One Asia U.S.
About Vezt Inc.
Vezt lets music fans share ownership with artists in their favorite songs. Founded in 2016, the company is headquartered in Los Angeles, California and has received funding from Binary Capital and principals of Global Trust Group. See vezt.co for more information.
Contact
Director of Communications Michael E. Rubin
michael(at)vezt(dot)co
+1-847-370-3421
Share article on social media or email: