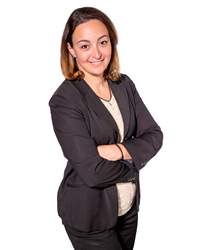 It is my great honor to be a part of such a fantastic team of attorneys and paralegals.
DANBURY, Conn. (PRWEB) June 01, 2018
Attorney Victor returned to Ventura Law in June of 2017, after two years working as senior trial counsel for a major insurance company in New York State. The promotion strengthens the firm's core practice area of Personal Injury and adds further depth to the firm's focus on representing survivors of sexual abuse. Attorney Victor handles matters in New York and Connecticut state and federal courts.
Attorney Victor is a graduate of Brandeis University and received her J.D. from the Benjamin N. Cardozo School of Law, where she led the Cardozo Advocates for Battered Women. Following law school, attorney Victor worked in Cape Town, South Africa, representing asylum seekers from central African countries. Back in the United States, she began her career representing the City of New York as Assistant Corporation Counsel for the New York City Law Department. Attorney Victor is fluent in Portuguese and Spanish.
"It is my great honor to be a part of such a fantastic team of attorneys and paralegals. We at Ventura Law work hard, each day, to bring justice to our clients, continuing the work of our founding partner, Attorney Ventura." Attorney Sabrina Victor.
About Ventura Law - Ventura Law has been dedicated to providing it clients with compassionate legal service and a strong voice in the legal process since 1957. With four offices in Connecticut and one in New York City, we are a full-service practice, serving clients who have been injured in cases ranging from motor vehicle accidents, workplace accidents, premises liability, or pharmaceutical/medical device claims. To learn more about Ventura Law, please visit us online at http://www.venturalaw.com or call us at 203.800.8000.
Share article on social media or email: