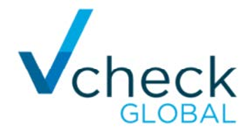 LOS ANGELES (PRWEB) October 25, 2018
Vcheck Global, a leading provider of business to business due diligence background checks, is proud to announce the hiring of Brendan Binkoski as Director of Investigators. Brendan brings over 10 years of experience in Investigative Due Diligence, Compliance, AML and Risk Management. Before joining Vcheck, Brendan was a Fraud Investigator with the Commonwealth of Massachusetts, Investigative Consultant with Kroll, an Associate Director of Risk Management at Cambridge Associates, and an Assistant Vice President of AML Compliance at State Street. Brendan will be based in Vcheck's Boston office.
Adam Rudman, CEO of Vcheck Global, stated, "We are looking forward to the tremendous value that Brendan will bring to the Vcheck Global family as we expand the depth of the services we offer. I am confident that both our internal team and our clients will benefit from Brendan's certification as an anti-money laundering specialist and as a certified fraud examiner. Additionally, our clients who utilize our foreign search services will be pleased that Brendan is proficient in the Korean language."
ABOUT VCHECK GLOBAL
Vcheck Global is a business-to-business provider of due diligence, background checks, employment screening, document retrieval, and specialized research of both business entities and individuals. Vcheck Global protects its clients by providing essential information about the people and companies they do business with.
For more information regarding Vcheck Global, please contact us at info(at)vcheckglobal.com or at (888) 740-0747.
Share article on social media or email: