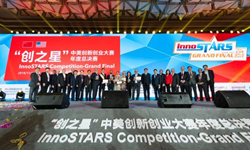 The InnoSTARS competition allows rising tech stars to grow faster and compete more ably at a global level." - Stella Liu, Executive Director, UCIA
HOUSTON (PRWEB) April 17, 2019
The US China Innovation Alliance (UCIA) expects hundreds of technology pioneers and global leaders in the startup ecosystem to attend its May 16-17, 2019 US China Innovation and Investment Summit and InnoSTARS competition.
The two-day event, held at The Westin Houston, Memorial City, 945 Gessner Rd, Houston, TX 77024, is organized by the UCIA.
Companies have ten-minutes to pitch their technology to judges. Preliminary winners receive an invitation to join the 2019 three-city China road-show to compete in further rounds of InnoSTARS.
Semi-finalists' round-trip China airfare, hotels, and meals are covered by InnoSTARS, and winners receive cash prizes and media recognition.
The road-show includes introductions to Chinese environmental corporations, universities, regulators, and investors interested in US innovation.
According to Stella Liu, CEO of the UCIA, "Our competition allows rising tech starts to grow faster and compete more ably on a global level. Startups receive the business foundation required for direct exposure to investors."
"This Summit was a great program to help explore new business opportunities for our company in the Chinese market," says William Altman, CEO of Corlnnova, based in Houston. He continued adding, "I learned a lot about what Chinese investors want and how my product might best enter the Chinese market."
Last year's grand finale winner, PharmaJet of Colorado, secured a distribution partner and investor funding, while finalist UAVOS of California, now has a manufacturing plant in China resulting from the InnoSTARS Grand Finale in Suzhou.
The InnoSTARS pitching competition also takes place in the following U.S. cities: Atlanta, Boston, Chicago, Denver, Detroit, Maryland, Miami, San Francisco, and Seattle.
In 2018 alone, the competition facilitated some 800 business meetings between US companies and Chinese associates, leading to confirmed partnership and investment agreements.
Tickets to the US China Innovation and Investment Summit: https://ucis2019.uschinainnovation.org/signup
The US China Innovation Alliance is a non-profit promoting innovation and collaboration among the US and China.
###
The US China Innovation Alliance (UCIA) is a non-profit 501(c)(3) tax-exempt organization that promotes innovation collaboration between US and China through the annual US China Innovation & Investment Summit and the InnoSTARS Competition, which is designed to connect U.S.-based technology companies with Chinese partners, service providers, and investors. Learn more: https://ucis.uschinainnovation.org/
Share article on social media or email: