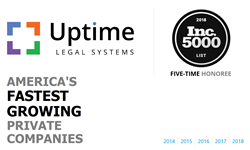 "We're excited and humbled to receive such an honor, and resolve to remain the legal technology pioneers that our customers count on."
EDEN PRAIRIE, Minn. (PRWEB) August 19, 2018
Uptime Legal is honored not just for impressive growth over the last five years, but for developing and delivering innovative and best-in-class technology services that today's law firms need. Uptime's portfolio of products for law firms are each design to help law firms manage and grow their practice, and include:
Uptime Practice, the #1 private cloud for law firms, which helps law firms eliminate IT problems, streamline their technology, secure their data and work anywhere.
Uptime JurisPage, the award-winning internet marketing agency that exclusively serves the unique needs of law firm marketing, with web design, SEO, online advertising, and email marketing services.
Uptime LegalWorks, the cloud-based, matter-centric document and email management system, which helps their law firms organize, manage and secure their documents, email and other content.
"We're honored to be among the fastest-growing companies in America for the fifth time in a row," said Dennis Dimka, Uptime Legal's CEO. "Making the Inc. 5000 and achieving the growth we have is a testament to our passion and commitment to serving the technology needs of our clients. We're excited and humbled to receive such an honor, and resolve to remain the legal technology pioneers that our customers count on."
ABOUT THE INC. 5000
The 2018 Inc. 5000 ranks America's fastest-growing private companies. Very few private companies ever appear on this celebrated list, and fewer still sustain that level of growth for five consecutive years. Uptime Legal's fifth appearance on the Inc. Magazine list truly sets it apart from other cloud and technology providers. Complete results of the Inc. 5000 list including company profiles can be found at inc.com/inc5000.
ABOUT UPTIME LEGAL
Uptime Legal Systems helps law firms manage and grow their practice with cloud, legal technology, and marketing services.
Uptime Legal is North America's leading provider of cloud services to law firms. As a full-service legal technology provider, Uptime's offerings include Private Cloud for law firms, Document Management and Internet Marketing. Uptime has offices in Minneapolis and New York.
CONTACT
888-878-4632
press@UptimeLegal.com
Share article on social media or email: