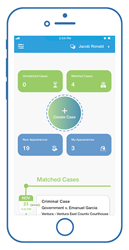 With the help of AppearMe, hiring an appearance attorney can take less than a minute.
LOS ANGELES (PRWEB) December 05, 2017
The company that shook up the legal industry in September is continuing to revolutionize how hiring an appearance attorney and appearance management should be done. With an average time of 6 minutes to find a lawyer who will take on hearings, the company is releasing a new version of the astonishingly popular software.
What's new in this release? Besides the fresh and easy to follow new interface design, the company has merged all account types and has given attorneys the ability to submit and pick up appearances with ease and under one user account.
No long waits, no endless phone calls, no payment problems, no more half-filled days and time wasted in courts. Attorneys of record: sign up, submit a hearing, get matched and they are done. Appearance attorneys: sign up, accept appearance offers, appear and they are done. The fast and secure website works wonders for those who know the pain of finding an appearance attorney. Whether the hearing is a week from now or in an hour, the software and the app work together to find help in real time.
The fairly new app is currently available in California only. Co-founded by two attorneys (Armen Margarian and Hovanes Margarian), AppearMe makes it a snap to find a Los Angeles appearance attorney while an attorney is working hard at his San Francisco office. Or maybe she is stuck at another hearing in San Diego but needs some one to appear for her down the street or two floors up. Another group of unexpected users are the attorneys who are tired of going to court with only one or two cases on their calendar. Picking up a case and making an additional $60 to $150 is always a pleasant way to double ones earning for the day.
It was only a year ago when the Margarian brothers set out to create a tool which would help them find an attorney on demand, anywhere in California and for any case. Soon the idea of AppearMe was born. Their new startup helps them and thousands of attorneys to find appearance attorneys within minutes. "When you are busy with several cases and you cannot be everywhere at the same time, you need a helping hand," said Armen Margarian.
AppearMe is a Los Angeles based startup that uses the latest in technology to help attorneys of record and appearance attorneys find each other in real time. Moreover, Hovanes Margarian, states: "With the help of AppearMe, hiring an appearance attorney can take less than a minute. Also, the pricing is clear; starting at only $70 per appearance the process is more affordable than ever before."
Share article on social media or email: