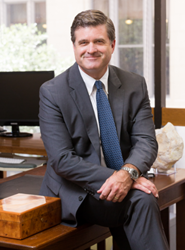 Most people want an attorney they can trust and one that they can depend on to help them make the right decision about their case. I enjoy helping my clients get to that point and positioning them in a place where they can gain the best possible result for their case.
San Antonio, TX (PRWEB) September 19, 2017
Tylden Shaeffer, Attorney at Law, has been recognized by his professional legal peers as one of the Top S.A. Criminal Defense Attorneys of 2017 by S.A. Scene Magazine. This accolade highlights Tylden's successes and vast accomplishments in the practice area of criminal defense.
Each year, S.A. Scene Magazine surveys a number of qualified attorneys in the area to determine which attorneys within the legal community are considered the top lawyers in various categories. The list contains more than 70 practice areas. This award will be featured in the September 2017 issue of S.A. Scene Magazine, which marks their 187th issue and 18 year anniversary.
San Antonio criminal defense lawyer, Tylden Shaeffer, is the principal and founding attorney at Tylden Shaeffer, Attorney at Law, P.C. With over 25 years of experience in criminal law, Shaeffer has built up a considerable array of practice areas within the criminal law specialty. He was also voted as One of San Antonio's Best Criminal Defense Lawyers from 2008-2012 and from 2014-2017. Board certification matters: less than one percent of all Texas Attorneys are board certified in criminal law.
He has taken on a variety of cases that have challenged him to expand his areas of expertise. Because of this, Shaeffer has been able to grow his specialty areas into: domestic violence, drug crimes, DWI, expunction, federal crimes, felony defense, juvenile crimes, probation violation, sexual assault, theft crimes, violent crimes, and white collar crimes.
About Tylden Shaeffer, Attorney at Law, P.C.
In January of 2000, Tylden Shaeffer opened up his own law practice after leaving the Bexar County District Attorney's office as a first chair felony prosecutor. He is licensed to practice law in state courts in Texas as well as in the federal courts of the Western District of Texas and belongs to the State Bar of Texas. He is AV® rated by Martindale-Hubbell®. He has also been asked by several courts to represent the State as a special prosecutor and has lectured at legal seminars in the area. He has focused his practice on giving his clients a dedicated and vigorous defense—seeking to put them in the best possible position to resolve their legal matters effectively and to allow them to put their lives back together again.
For more information about Tylden Shaeffer, Attorney at Law, P.C., visit https://sanantoniocriminalatty.com/ or call 210.227.1500.
Share article on social media or email: