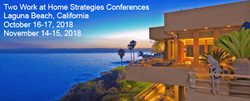 This is one of the best conferences I've been to - packed with meaningful information and contacts.
(PRWEB) August 25, 2018
Customer Contact Strategies announced two upcoming Work at Home Conferences to be held in Laguna Beach, CA, this fall.
The conferences are designed for functional leaders/stakeholders of the customer care function and support functions. The focus is on sharing best practices, technologies, big wins, and challenges with deployment and expansion of the work at home model for contact centers and support functions.
Michele Rowan, President of Customer Contact Strategies, shares "There will be nine speakers, all of whom are heavily experienced with deploying the work at home model, and all of whom do it differently. That's what makes the conference so interesting."
Attendees are solicited in advance for their specific areas of focus and hot buttons, and Customer Contact Strategies makes sure they are included in the discussion content.
Another key takeaway is a copy of the 2018 Remote Working Benchmarking Survey, where 60+ companies participated on 35 points around structure and operation of their work at home program.
To learn more and register:
https://www.customercontactstrategies.com/2018-advanced-remote-working-strategies-workshops/
Share article on social media or email: