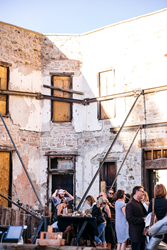 "The ultimate home tour for the connoisseur. Linger at each venue for an intimate peek into the work of our local architects, designers, artists, and chefs who provide home tours, art exhibits, performances, and food and wine tastings at each stop on the tour." - Tueller & Gibbs, LLP
TELLURIDE, Colo. (PRWEB) July 22, 2018
Tueller & Gibbs, LLP, headed by Doug Tueller and Andy Gibbs, supports the transformation of this historic structure into a cultural and architectural landmark through fundraising efforts. "Community service is a core value of our firm," Tueller said. "We devote a significant portion of our firm's resources to pro bono and community service endeavors."
According to the Telluride Arts website, "The Warehouse will be an extraordinary home for the arts at the heart of our community. The sandstone of the National Historic Landmark will encase stunning contemporary spaces that will host programming that advances the intellectual and cultural life of Telluride." With assistance from Tueller & Gibbs, the organization finalized the purchase of The Warehouse in April 2018, an important step for the implementation of the Telluride Cultural Master Plan adopted in 2012. As a condition of the sale and to assure the safety and stability of the building, the existing stone walls have been completely restored by master stonemasons. In a 2017 Telluride Daily Planet article about the project's final design stage, Kate Jones, executive director of Telluride Arts was quoted saying, "The walls are protected more than they have been for 40 years since the roof caved in. . . .The building is in great shape."
Tueller & Gibbs also intends to participate in the upcoming 2018 Telluride Art + Architecture Weekend July 21 and 22, 2018. The weekend is, according to the Telluride Art and Architecture website, "The ultimate home tour for the connoisseur. Linger at each venue for an intimate peek into the work of our local architects, designers, artists, and chefs who provide home tours, art exhibits, performances, and food and wine tastings at each stop on the tour."
Tickets may be purchased at the Telluride Arts Headquarters, 135 W. Pacific Avenue (across from the Library), July 16 through July 20 from 12 to 6 p.m. and July 21 from 10 to 4 p.m.; or at the Mountain Village Market, located at 455 Mountain Village Blvd., July 22, from 10 to 4 p.m. Advance purchase of tickets is recommended, since the event has sold out the last two years.
LTL Architects (Lewis.Tsurumaki.Lewis), a design intensive architecture firm, was selected from three finalists in the design competition. The Telluride Arts website quotes LTL's David Lewis as saying, "Our design for Transfer Warehouse transforms the space through a creative engagement between old and new, past, present and future, between flexible and highly calibrated spaces." The building, in its current roofless state, is open for both public and private events in the Telluride Arts District.
About Tueller & Gibbs, LLP
Tueller & Gibbs, LLP is structured to represent national companies and small enterprises, as well as individuals dealing with local challenges. Its transactional and litigation attorneys work together as a team providing experiential depth to creatively and pragmatically navigate complex issues. For more information, please call (303) 854-9121, or visit http://www.tuellergibbs.com.
For media inquiries, please call the NALA at 805.650.6121, ext. 361.
Share article on social media or email: