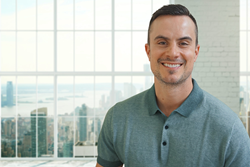 "In today's borderless digital world, it's crucial that businesses have access to a breadth of reliable data for electronic identity verification (eIDV) services in order to reduce fraud and mitigate risk, and effectively build a layer of trust online."
Vancouver, B.C. (PRWEB) December 05, 2017
Trulioo, the leading global identity verification provider, is delighted to be recognized as the global identity verification leader in a recent comprehensive report published by Let's Talk Payments (LTP).
The LTP report – part of a wider study around identity verification – took a deep dive into the nuances of digital ID verification. As part of their research, LTP utilized its new fintech research and engagement platform, MEDICI, to analyze the offerings of some of the most prominent players in the identity industry and evaluate their solutions based on their proprietary evaluation framework.
"We're very excited to be ranked #1 for our global identity verification coverage," said Stephen Ufford, CEO of Trulioo. "In today's borderless digital world, it's crucial that businesses have access to a breadth of reliable data for electronic identity verification (eIDV) services in order to reduce fraud and mitigate risk, and effectively build a layer of trust online."
The Digital ID Verification Competitive Analysis of Key Players report focused on key parameters, such as product offerings, the volume of partnerships across geographies, single interface flexibility, and the depth of verification data.
The report includes an overview of the RegTech industry, with particular focus on electronic identity verification (eIDV), the cost of identity fraud, and how regulations are affecting banks and financial institutions that are tasked with meeting Know Your Customer (KYC) requirements while providing a positive customer experience. In order to meet these ever-changing requirements, financial institutions are leveraging the latest technologies, including automation, machine learning, biometrics, blockchain, and artificial intelligence to deliver frictionless identity verification services.
The report can be downloaded for free here: https://medici.letstalkpayments.com/research-categories/digital-id-verification-competitive-analysis-of-key-players
About Let's Talk Payments
Let's Talk Payments was launched in 2013 as a high-quality content and research platform for the expanding fintech industry. Since its inception, LTP has reported on fintech industry news and provided original insights every day. LTP continues to be the fastest growing payments and digital commerce news destination globally.
About Trulioo
Trulioo is a global identity verification company that provides secure access to traditional and alternative data sources worldwide to instantly verify consumers and businesses online. Trulioo's bank-grade online verification platform, GlobalGateway, helps organizations comply with Anti-Money Laundering (AML) and Customer Due Diligence (CDD) requirements by automating Know Your Customer (KYC) and Know Your Business (KYB) workflows. Trulioo's solution leverages Optical Character Recognition, Natural Language Processing, and Artificial Intelligence technology to provide a reliable and trustworthy way for clients to evaluate new and existing customers and business entities in real-time. Trulioo supports over 500 global clients to instantly verify 4.5 billion customers in over 60 countries and 250 million business entities in over 80 countries - all through a single API integration. Named as a 2017 CNBC Disruptor 50 Company, Trulioo's mission is to solve global problems associated with verifying identities by powering fraud prevention and compliance systems for customers worldwide in an effort to increase trust and safety online. For more information visit http://www.trulioo.com.
Share article on social media or email: