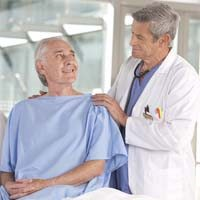 Benefit was evident in epithelioid histology, with a median overall survival gain of 5.4 months...
Raleigh, NC (PRWEB) September 15, 2017
Scientists studying the VEGF-inhibitor nintedanib (Ofev) say it improved the outcomes of mesothelioma patients on chemotherapy better than a placebo. Surviving Mesothelioma has all the details. Click here to read to full article.
In a newly published clinical trial sponsored by drug maker Boehringer Ingelheim, researchers gave nintedanib or a placebo drug along with standard mesothelioma chemotherapy to 87 patients for up to six 21-day cycles, then as a monotherapy after that.
"Benefit was evident in epithelioid histology, with a median overall survival gain of 5.4 months and median progression free survival gain of 4 months," reports lead researcher Federica Grosso.
The report in the latest issue of the Journal of Clinical Oncology found that the number of mesothelioma patients who stopped taking nintedanib because of side effects was less than half of the number who discontinued the placebo.
"We are always encouraged by reports of a drug that could potentially boost the effectiveness of chemotherapy for patients with malignant pleural mesothelioma, especially since current success rates with the standard regimen leave a lot of room for improvement," says Alex Strauss, Managing Editor for Surviving Mesothelioma.
To read more about the new nintedanib trial, including how this drug works similarly to Keytruda, see New Chemotherapy Booster May Extend Mesothelioma Survival, now available on the Surviving Mesothelioma website.
Grosso, F, et al, "Nintedanib Plus Pemetrexed/Cisplatin in Patients With Malignant Pleural Mesothelioma: Phase II Results From the Randomized, Placebo-Controlled LUME-Meso Trial", September 11, 2017, Journal of Clinical Oncology, Epub ahead of print, http://ascopubs.org/doi/abs/10.1200/JCO.2017.72.9012?journalCode=jco
For more than a decade, Surviving Mesothelioma has brought readers the most important and ground-breaking news on the causes, diagnosis and treatment of mesothelioma. All Surviving Mesothelioma news is gathered and reported directly from the peer-reviewed medical literature. Written for patients and their loved ones, Surviving Mesothelioma news helps families make more informed decisions.
Share article on social media or email:
SaveSave