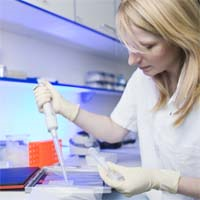 We identified ALK rearrangements in 3% of cases that (1) present in young women...
Raleigh, NC (PRWEB) September 17, 2017
Researchers in Boston have a theory about why some young women contract the rare form of malignant mesothelioma known as peritoneal mesothelioma, even though they do not fit the profile of a typical mesothelioma patient. Surviving Mesothelioma has all the details of the new study. Click here to read the full article.
In a study of 88 consecutive peritoneal mesothelioma patients, doctors at Harvard and Brigham and Women's Hospital in Boston found a variant in the anaplastic lymphoma kinase (ALK) gene in 3 percent of them.
According to the article published in JAMA Oncology, mesothelioma patients with this genetic rearrangement did not appear to have any of the usual risk factors for mesothelioma.
"We identified ALK rearrangements in 3% of cases that (1) present in young women (25% of women younger than 40 years), (2) lack asbestos fibers, (3) have no history of therapeutic radiation, and (4) lack the typical cytogenetic and molecular abnormalities usually present in peritoneal mesothelioma," writes researcher Yin P. Hung, MD, PhD, a clinical fellow in pathology at Brigham and Women's whose name appears first on the article.
"These findings shed light on the mystery behind some of these unexplained mesothelioma cases, but the real value of this report is what it could mean for mesothelioma treatment," says Alex Strauss, Managing Editor for Surviving Mesothelioma.
The researchers say they are hopeful that the new findings will open the door to more targeted treatments for mesothelioma patients with the ALK alteration.
To read more about these findings and the link between ALK and mesothelioma, see Unusual Mesothelioma Cases Linked to Genetic Alteration, now available on the Surviving Mesothelioma website.
Hung, Yin, et al, "Identification of ALK Rearrangements in Malignant Peritoneal Mesothelioma", September 14, 2017, JAMA Oncology, http://jamanetwork.com/journals/jamaoncology/article-abstract/2653897?resultClick=1
For more than a decade, Surviving Mesothelioma has brought readers the most important and ground-breaking news on the causes, diagnosis and treatment of mesothelioma. All Surviving Mesothelioma news is gathered and reported directly from the peer-reviewed medical literature. Written for patients and their loved ones, Surviving Mesothelioma news helps families make more informed decisions.
Share article on social media or email: