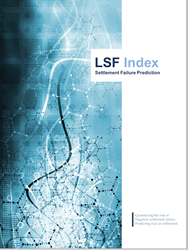 Legal disputes that fail to settle have a tell-tale economic fingerprint. The LSF Index is that fingerprint.
Hong Kong (PRWEB) September 19, 2017
SettlementAnalytics™ has today announced the launch of a groundbreaking new legal metric and advisory service designed to assist in the early detection of lawsuits that will fail to resolve in a settlement agreement. Based on an advanced legal-economic model of dispute, the Litigation Settlement Failure Index™ (LSF Index™) is the world's first quantitative legal measurement to indicate the likelihood of a lawsuit proceeding all the way to trial and adjudication.
Using the LSF Index and related legal-analytic technologies, SettlementAnalytics now offers settlement failure risk analysis and prediction services (SFRAP). For the first time, corporate litigants and law firms have a rigorous and quantitative early-warning indicator of settlement failures.
The Fingerprint of Settlement Failure
The majority of legal disputes end in settlement. So when negotiations fail and cases proceed to a court or arbitral hearing, it can often come as a surprise, and one that is not always welcome. However, research shows there is a tell-tale fingerprint of impending settlement failure embedded in the economic structure of trial-prone legal conflicts and the prospects that confront each litigant. The LSF Index is that fingerprint.
"Not all lawsuits are created equal. In order to reach a court and obtain a judgment, disputes must first resist the economic forces that ordinarily encourage a negotiated solution. This filtering process imparts an economic signature to the subset of disputes which can be expected to end up in a courtroom," said Robert Parnell, president and CEO of SettlementAnalytics. "By analyzing the economic structure of legal conflicts we can extract the implied probability of settlement failure."
Trial Selection Theory
The Index is based on 'trial selection theory', which is the branch of legal-economics that seeks to explain why some legal disputes fail to settle and how the selection process affects the resulting trial rate and plaintiff win rate. Two separate and competing theories of trial selection have been at the center of academic attention over the past 34-years: divergent expectations (DE) and asymmetric information (AI). DE theory suggests that litigants fail to agree a settlement because of excessive mutual optimism about trial expectations, whereas AI theory suggests that cases fail to settle because of a high level of uncertainty in settlement decision making.
However, optimism and uncertainty often coexist and interact with each other in real-world legal disputes. To quantify their combined impact on settlement risk, SettlementAnalytics has developed the Unified Trial Selection Model™ (UTS Model™), a proprietary model which integrates DE and AI theories in a single coherent analytic framework.
While optimism and uncertainty are important considerations, in practice they are only two of many economic factors that affect trial selection. A major contribution of UTS Model and the LSF Index is that they have been fully-specified to take account of the financial complexity of real-world legal conflict.
"Reality is more complex than previous models of selection have generally allowed. UTS Model and LSF Index capture the impact of other key factors such as costs, capital costs, time to trial, cost rules, risk aversion, hybrid and split contingent fee structures," said Parnell. "To our knowledge, UTS Model represents the most advanced, factor-rich analysis of settlement failure risk ever undertaken."
Computation of LSF Index
Computation of the LSF Index begins by encoding all of the relevant economic information that is known about a given legal dispute. This information is input to the UTS Model, which can be used to calculate the Index at any point in time or on a forecast basis. UTS Model effectively provides a structured and formalized process for converting economic expectations about the continuation of dispute into their implied theoretical probability of settlement failure. An additional analytic process then uses the LSF Index to make a categorical prediction of trial-or-settlement.
Settlement Failure Prediction Services
The LSF Index and related advisory services offer litigants and law firms significant advantages. Forewarned being forearmed, the Index can enable legal practitioners to head off what may otherwise be an impending and certain trial or arbitration. By understanding the real extent of settlement failure risk and the economic factors contributing to it, litigants can adopt proactive and calibrated trial-avoidance measures in a process we call Settlement Risk Engineering™.
Law firms and litigation funding companies can use the LSF Index as part of their case selection criteria and early-stage case assessment. Knowing whether a dispute is more settlement- or trial-prone can allow firms to optimize case selection and allocate legal resources and capital more efficiently.
Insurance companies and other institutional litigants can use the LSF Index to rank order disputes according to their settlement failure risk. Used in this way, the Index represents an invaluable portfolio management tool.
A brochure PDF describing trial selection theory and LSF Index services is available for download at https://settlementanalytics.com/2017/09/lsf-index-brochure/.
About SettlementAnalytics
SettlementAnalytics is a legal-economic research, consulting and software development firm. The firm is focused on the application of game theory and model-based approaches to the strategic analysis of litigation and settlement decision making. SettlementAnalytics created and established the game theoretic analysis of legal dispute as a practical analytic discipline in 2011, and for more than six years has lead the way as the preeminent consultant and software developer in this field. The firm's flagship software service — OptiSettle™ — is the first-ever game theory analytics platform for legal dispute. Visit SettlementAnalytics.com.
SettlementAnalytics
The Science of Litigation™
For more information please contact:
Robert Parnell, CFA, LLB
President and CEO
Tel: +852 3589 3377
Email: info(at)settlementanalytics(dot)com
http://www.SettlementAnalytics.com
SettlementAnalytics
Macro Research Associates Limited
1301 Bank of America Tower
12 Harcourt Road, Suite 1479
Central, Hong Kong
Share article on social media or email: