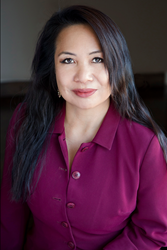 My parents were immigrants from the Philippines who were honest and hardworking individuals. They were so proud to see me become a lawyer who fights for equality and fair treatment in the workplace." - Toni Jaramilla
LOS ANGELES (PRWEB) August 14, 2018
The Los Angeles and San Francisco Daily Journal recently named renowned civil and workers' rights attorney and #MeToo advocate Toni Jaramilla as one of the Top 75 Labor & Employment Lawyers for 2018. "I grew up in a working-class family. My parents were immigrants from the Philippines who were honest and hardworking individuals. Yet, they experienced discrimination and bigotry even after becoming U.S. citizens. They were so proud to see me become a lawyer who fights for equality and fair treatment in the workplace. So to also make a Top 75 Labor & Employment Lawyers list, I'm sure my parents are beaming with pride from heaven," said Jaramilla.
Jaramilla is a frequent speaker regarding sexual harassment laws and the #MeToo topic. She has testified in Sacramento before the Legislature in favor of SB 1300, which was inspired by the recent #MeToo movement.
The bill is aimed at strengthening sexual harassment protections under the Fair Employment and Housing Act. It provides statutory guidance on the "severe or pervasive" standard of what constitutes sexual harassment, it strengthens sexual harassment training, prevention, and intervention in the workplace, it curbs an employer's ability to make non-disparagement agreements a condition of employment, and prohibits employers from requiring employees to release their sexual harassment and discrimination claims as a condition of continued employment or benefit such as a raise or bonus.
Jaramilla has an active litigation practice in which she represents clients from low wage earners to high-level executives across many industries. She litigates in both state and federal courts in claims of discrimination, sexual, and racial harassment, disability accommodation, FMLA, and CFRA leave law violations, wrongful termination, and unpaid wages.
Jaramilla has been working with California Employment Lawyers Association (CELA) leaders and other civil rights allies to review language of various new legislation inspired by the #MeToo movement. She has also been involved in the drafting and reviewing of new bills that would ban "secret settlements," also called non-disclosure agreements (NDAs), "gag order provisions" or "hush money" settlements in sexual harassment and assault claims.
About Toni Jaramilla, A Professional Law Corporation
Toni Jaramilla is committed to achieving the best possible results for employees who have experienced problems in the workplace. Serving clients throughout Los Angeles, her focus is on achieving positive social change for workers. Through zealous and ethical advocacy, lawyers at the firm have built a reputation for excellence in the practice of employment and labor law. For more information, please call (310) 551-3020, or visit http://www.jaramilla.com. The office is located at 12100 Wilshire Blvd., Suite 600, Los Angeles, CA 90025.
About the NALA™
The NALA offers small and medium-sized businesses effective ways to reach customers through new media. As a single-agency source, the NALA helps businesses flourish in their local community. The NALA's mission is to promote a business' relevant and newsworthy events and achievements, both online and through traditional media. The information and content in this article are not in conjunction with the views of the NALA. For media inquiries, please call 805.650.6121, ext. 361.
Share article on social media or email: