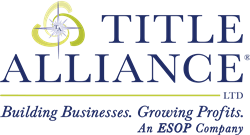 Title Alliance Cares is one way we can provide opportunities to support our team members whether it be when unexpected hardships occur or when trying to fulfill lifelong dreams.
MEDIA, Pa. (PRWEB) June 22, 2021
Title Alliance Ltd., a full-service title insurance agency offering a complete range of title and escrow services, is proud to announce Title Alliance Cares, an initiative offering critical support resources including loans, grants, wish-fulfilment, awards, and recognition, as well as other forms of hardship support to all employees. Title Alliance recognizes that life is what inevitably happens when you are trying to plan other things and they hope that Title Alliance Cares can be another avenue for the company to continue to express their gratitude for all their employees.
"Our employees are our most valuable assets, and we are beyond grateful to have cultivated a network of hard-working and dedicated team members," said Jim Campbell, Chief Executive Officer at Title Alliance. "With our Title Alliance Cares Initiative, we strive to pour into our team member's lives by providing a resource for funds in varied methods with the intent to help out when things get tough, or to celebrate fulfillment of lifetime wishes. I'm excited that we are fortunate to be able to give back to our teams this way."
All active Title Alliance employees in good standing, are eligible to apply for a Title Alliance Cares resource by nominating themselves or other employees. Examples of how Title Alliance Cares can support their employees include unexpected car repairs, unexcepted medical bills, unexpected home repairs, funeral expenses, temporary relocation assistance (such as due to natural disaster), family vacations, bucket list fulfilment, and celebrations. Each application will be reviewed by the Title Alliance Cares Team and those selected will be notified on or around the 20th of the month.
Title Alliance Cares is among several benefits offered to Title Alliance Team members. A list of all benefits can be found here.
Interested in joining the Title Alliance team? View open positions here.
"We know that we push our teams hard" says Lindsay Smith, Chief Strategy Officer, "but we do so in order to provide opportunities to make a difference in the lives of our team members and our partners. Title Alliance Cares is one way we can provide opportunities to support our team members whether it be when unexpected hardships occur or when trying to fulfill lifelong dreams."
About Title Alliance:
Title Alliance's roots date back to 1948 when their first agency, which is still in existence today, was formed in Media, Pennsylvania. Since 1983, the company has been forming successful single and multi-state title joint ventures with lenders, realtors, and builders. Title Alliance works with partners to establish in-house title and settlement operations, dramatically enhancing their customer service and increasing their profit. Title Alliance's family of companies is currently in 11 states with 60 total offices. More information at http://www.titlealliance.com
Share article on social media or email: