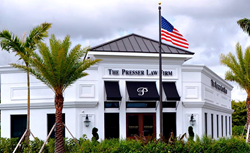 While there's no escaping death, understanding the need for proper Estate Planning can make your passing less troublesome for your loved ones.
BOCA RATON, Fla. (PRWEB) August 20, 2018
Everyone should know just how important it is to have an Estate Plan. A comprehensive plan not only ensures how, and to whom, assets are transferred at your death, but also covers planning for your incapacity, the future of your children, and minimizing unnecessary taxes.
However, despite the abundance of knowledgeable Estate Planners and the wealth of free, educational material online, the planning process is far from perfect. From failing to recognize the importance of Estate Planning, to attempting a do-it-yourself approach, Estate Planning mistakes continue to be made time and time again.
Not Having an Estate Plan
While some mistakes are made by taking action, others are made by failing to do anything. By understanding the importance of Estate Planning, you've already avoided the first mistake.
Recognizing the importance of an Estate Plan is the same as acknowledging your own mortality. While there's no escaping death, understanding the need for proper Estate Planning can make your passing less troublesome for your loved ones.
If you don't have the proper documents in place, then the courts will make the decisions for you. It can be a stressful, expensive process that is easily avoided.
For anyone skeptical or unsure of the benefits (and consequences) of Estate Planning, there is a wealth of information online. Begin by asking yourself, "what would it take to make a plan, and what would I be accomplishing my creating one
Do-It-Yourself Estate Planning
After you've had the realization of its impact, and the innumerable consequences of not having an Estate Plan, contact a knowledgeable attorney to begin creating your documents. More often than not, a DIY Estate Plan will be riddled with error.
Some forms, like healthcare surrogates and living wills, are straightforward and can be completed without error. However, something more complicated like a will or a trust, can mean something completely different than intended if drafted incorrectly.
The biggest problem with a DIY approach to Estate Planning is simple: you're not a lawyer. And even if you are, just as doctors don't treat themselves, lawyers generally don't create their own documents. By wording just one sentence wrong a DIY Estate Plan can potentially change the entire document.
Mistakes can be very costly to fix, and an Estate can easily get used up from the legal fees in the aftermath of poorly-drafted documents. If you're tempted to do an Estate Plan yourself because the cost of a qualified Estate Planning Attorney concerns you, weigh it up against the cost of future legal fees.
Not Understanding Your Estate Plan
So, you recognize the need for an Estate Plan and you visited an attorney. Congratulations, but you're not out of the woods yet.
Do you know what your Estate Plan says? Does it meet your current needs? Too often people fail to understand what is actually outline in their Estate Planning documents.
Arguably the two most important things to understand are what happens if you become incapacitated, and what happens when you die. Having the answers to these questions is the bare minimum when it comes to understanding your plan.
An Estate Plan needs to be a living, breathing plan that covers major life changes. Meet with your attorney after any major life changes to ensure your documents are flexible enough for their accommodation.
Retain the Services of an Experienced Estate Planning Attorney to Avoid Estate Planning Mistakes
A poorly-prepared Estate Plan can drain an estate with taxes and the high, time-consuming costs of probate and other legal fees. Additionally, while the wrong people can inherit, or rightful beneficiaries can lose their inheritance to a spouse or creditor.
The Presser Law Firm, P.A. can work with you or your attorney to create a new Estate Plan, or integrate your current Estate Plan with an Asset Protection plan
For additional information related to Estate Planning and Asset Protection, read the educational materials and resources available our website, AssetProtectionAttorneys.com. Visitors can also request complimentary copies of our Asset Protection books.
The Presser Law Firm, P.A. offers Complimentary Preliminary Consultations with one of our experienced attorneys. Call 561-953-1050 or email Info@AssetProtectionAttorneys.com today.
Share article on social media or email: