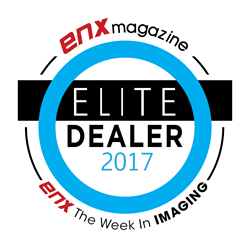 We're honored to congratulate this year's Elite Dealers for their remarkable leadership and achievement in overcoming many challenges in the marketplace
KNOXVILLE, Tenn. (PRWEB) January 10, 2018
ENX magazine and ENX The Week in Imaging announced that Thermocopy was selected as a 2017 Elite Dealer. The Elite Dealers were highlighted in the December issue of ENX magazine. Elite Dealer awards have been given since 1988 and honor the best and brightest of the office imaging dealer community. Thermocopy is a multi-year winner.
Thermocopy was selected based upon its growth initiatives, innovative marketing programs, outstanding customer service, community involvement, vibrant and nurturing workplace culture, and adaptability to ever-changing markets.
'We're honored to introduce the 2017 Elite Dealers and congratulate this year's Elite Dealers for their remarkable leadership and achievement in overcoming many challenges in the marketplace and leading their dealerships into the path of continual success," said Susan Neimes, Managing Editor of ENX Magazine and ENX The Week In Imaging.
About Thermocopy
Thermocopy is East Tennessee's largest business technology company offering multi-functional digital office equipment, information flow analyses, and software solutions to help businesses better manage their documents and information workflow. Now in its 53rd year, the company has more than 60 employees at offices in Knoxville and Johnson City. Thermocopy subsidiaries include Centriworks, the company's managed IT services, information flow analysis, and software applications division. For Thermocopy's complete range of products and services, visit http://www.thermocopy.com.
Share article on social media or email: