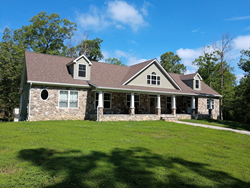 TOANO, Va. (PRWEB) November 02, 2018
The two-story Low Country Bonus Ranch was custom designed by the homeowners with the help of Virginia Building Solutions. The 4-bed and 3.5-bath home features a vaulted foyer with an overlook, and craftsman trim, casing and baseboard. The floors are made of beautiful wide-plank rustic distressed hardwood. Quartz countertops are accentuated by white cabinetry in the custom gourmet kitchen. The living area contains a cozy stone fireplace with a double flue for the woodstove in the basement. The master bath features a luxurious large tile infinity shower and antique replica claw foot soaker tub.
Unique details on the exterior include a stone façade on the front elevation, column bases, chimney and porches complimented by cedar vinyl shake siding. The porch and patio tops are made from stamped concrete. Part of the unfinished basement doubles as a three-bay garage. The utility systems are prepared for future solar power capability with the inclusion of geo-thermal heat and air pumps.
About the Modular Home Builders Association:
The MHBA is the only national non-profit trade association exclusively serving the modular home industry. Each month the association selects a home from its members to highlight the advantages of modular construction. For more information on MHBA, modular homes, and the monthly contest, please visit http://www.modularhome.org.
Share article on social media or email: