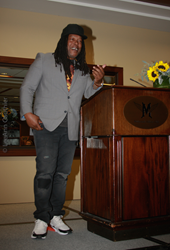 "It takes a community to create change and we truly appreciate all the support from the people and organizations taking this journey with us," said Executive Director Joseph Tietz, PhD.
PORTLAND, Ore. (PRWEB) October 29, 2018
The Pathfinder Network celebrated its 25th anniversary with a Silver Anniversary Luncheon held at the Multnomah Athletic Club on October 18, 2018. Among the 135 guests in attendance were donors, local dignitaries, Department of Corrections and Multnomah County Department of Community Justice leadership, community partners, key stakeholders and members of The Pathfinder Network board of directors and staff.
"We are grateful for the generous support given in honor of our 25th Anniversary from our many corporate sponsors, colleagues and friends," said Development Manager Belle Landau. "The funds raised will support our evidence-based programs that empower at-risk children of justice-system involved parents with coping skills that reduce trauma symptoms, and mentoring that increases their success in school."
The anniversary event highlighted The Pathfinder Network's decades of work and advances made toward creating pathways to change in the lives of both, currently and formerly incarcerated individuals and their families, and within Oregon's criminal justice system as a whole. Today the organization offers multiple evidence-based programs in 11 of Oregon's 14 prisons, including parenting education, drug and alcohol treatment and gender responsive programming. In Multnomah County, The Pathfinder Network's Center for Family Success provides a unique array of supportive programs and services for parents returning to their families and communities, with mentoring and trauma-informed care for children impacted by parental incarceration. Since founded in 1993, The Pathfinder Network has collectively served over 40,000 justice system-impacted individuals and families across the state of Oregon.
In addition to showcasing the organization's powerful work, the luncheon featured a moving presentation by honored guest speaker Shaka Senghor, an author and activist who shared his personal story of incarceration and second chances. Later that evening Senghor spoke at a community event presented by The Pathfinder Network in partnership with "Ending the New Jim Crow"—A Social Justice Action Group of First Unitarian Portland, offering insights into the human impact of mass incarceration and illustrating an alternative vision for the justice system in which redemption and productive changes are possible.
"It takes a community to create change and we truly appreciate all the support from the people and organizations taking this journey with us," said Executive Director Joseph Tietz, PhD. "Throughout our 25-year history, we have been fortunate to work with partners as committed as we are to offering hope and second chances to justice system-impacted individuals and their families."
Generous support for both events was provided by Benefactor Sponsor, The Standard, Ally Sponsor Stoel Rives LLP, and Advocate Sponsor Central City Concern. Other sponsors included Portland Children's Levy, Beneficial State Bank, Cheryl's As Good As It Gets Catering, ProActive Network Technologies Inc., Expressions Printing and Marketing Services, Oregon Justice Resource Center and Partnership for Safety and Justice.
For more information about how you can help please contact Belle Landau, Development Manager, at blandau@thepathfindernetwork.org or visit https://www.thepathfindernetwork.org.
The Pathfinder Network is a 501 (c) (3) social service agency founded in 1993 with a mission to provide justice system-impacted individuals and families the tools and support they need to be safe and thrive in their communities. The Pathfinder Network provides cognitive-behavioral programs, parenting programs, education and support services for pro-social living for adults in custody in Oregon prisons and jails in Multnomah County, and community based services for children and families in Multnomah County.
Share article on social media or email: