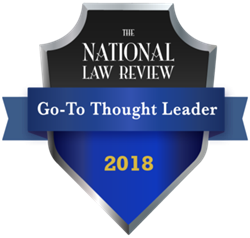 We looked for contributors who exhibited particular expertise in a legal area and helped clarify the issues for corporate counsel, business professionals, and other legal consumers. The selected authors and organizations truly are the 'Go-To Thought Leaders' in their fields
CHICAGO (PRWEB) December 20, 2018
The "Go-To Thought Leadership Awards" recognize 65 exceptional authors and legal organizations for their reporting of complex legislative and litigation news, as well as their strategic insight and overall industry knowledge.
The recipients were selected by the National Law Review's editors from a pool of over 100,000 legal news and analysis articles. According to Jennifer Schaller, the Managing Director of the National Law Review, "We looked for contributors who exhibited particular expertise in a legal area and helped clarify the issues for corporate counsel, business professionals, and other legal consumers. The selected authors and organizations truly are the 'Go-To Thought Leaders' in their fields." Per Eilene Spear, Operations and Projects Manager of the National Law Review, "After looking at tens of thousands of pieces of content, we found some contributors offer NLR readers both consistent insightful legal analysis, and author content that gets the attention of both readers and other publications."
This is the first year the National Law Review formally recognized the unique talents of less than 1% of the authors and organizations who contribute to the NLR's daily legal news service. We recognized authors in 20 categories ranging from Bankruptcy to Tribal Law. Please join us in congratulating the National Law Review 2018 Go-To Thought Leader Leadership Awards recipients:
"Article of the Year" Award: "USCIS Outlines Protocols for New Employment Permanent Residence Interviews" by Kimberly A. Clarke & Nina Thekdi of Varnum LLP.
Bankruptcy & Restructuring Law
Stark & Stark Retail Bankruptcies
Business of Law
Good2bSocial Content Strategy
Jaffe Law Firm Reputation Management
LawVision Group LLC Law Firm Management
Fishman Marketing, Inc. Law Firm Branding
Corporate
Wiggin and Dana LLP Startup Legal Issues
Morgan Lewis Contract Corner Series
Keith Paul Bishop Allen Matkins Corporate & Securities Law    
Cynthia J. Larose Mintz Privacy Law
Dena M. Castricone Murtha Cullina Cybersecurity Law
Zuckerman Law Employment Discrimination
Sills Cummis & Gross P.C. NY & NJ Employment Law
Anthony J Oncidi Proskauer Rose LLP California Employment Law
James J. Plunkett Ogletree Deakins Employment Regulatory News
Sherin and Lodgen LLP Massachusetts Employment Law
George Carroll Whipple, III Epstein Becker & Green Employment Law Weekly Updates
Jackson Lewis P.C. Employment Regulation
David J. Pryzbylski Barnes & Thornburg LLP Labor Relations Law
Sheryl Jaffee Halpern Much Shelist, P.C. Employment & Human Resources Law
Holland & Hart LLP Employment Litigation
Cary Burke Polsinelli PC NLRB News Updates
Steptoe & Johnson PLLC State Employment Essentials
Fred Reish Drinker Biddle & Reath LLP Employee Benefits Law
Bergeson & Campbell, P.C. TSCA & EPA Coverage
Ryley Carlock & Applewhite, Southwest Energy and Water
Schiff Hardin LLP Environmental Regulation
Van Ness Feldman LLP Clean Water Act
Mark N. Duvall Beveridge & Diamond PC Environmental Law
James G. Gatto Sheppard Mullin Blockchain Technology Law
Vedder Price Investment & SEC Law     
Gary De Waal Katten Muchin Rosenman LLP Financial Law Updates
Scott A. Cammarn Cadwalader, Wickersham & Taft LLP Financial Regulation
Alan S. Kaplinsky Ballard Spahr LLP Consumer Finance
Azim Chowdhury Keller and Heckman LLP Vaping Regulation
Ian A. Stewart Wilson Elser Moskowitz Edelman & Dicker LLP Marijuana Law
Gaming Law
Thomas B. Shepherd Jones Walker LLP Gaming & Sports Betting Law
Dickinson Wright PLLC Opioid Legal Crisis
Jennifer Orr Mitchell Dinsmore & Shohl LLP Health Care Law & HIPA
Giordano, Halleran & Ciesla, P.C. New Jersey Health Care
Kimberly A. Clarke & Nina Thekdi Varnum LLP Article of the Year
Greenberg Traurig, LLP Business Immigration
Larry P. Schiffer Squire Patton Boggs (US) LLP Insurance & Reinsurance Law
Brinks Gilson & Lione Patent Litigation
Warren Woessner Schwegman, Lundberg & Woessner, P.A. Life Sciences IP
Sterne, Kessler, Goldstein & Fox P.L.L.C. PTAB Coverage
McDermott Will & Emery IP Litigation
Michael Best & Friedrich LLP International Intellectual Property
Courtenay C. Brinckerhoff Foley & Lardner LLP Pharmaceutical Patents
Litigation & Trial Practice    
K&L Gates Delaware Chancery Court
Armstrong Teasdale Litigation Coverage
Heyl, Royster, Voelker & Allen, P.C. Illinois Litigation
McKool Smith Trial Practice
Eric Troutman Hunton Andrews Kurth Federal Court Coverage
Womble Bond Dickinson (US) LLP TCPA Litigation
Clifford Law Offices Personal Injury Litigation
Tycko & Zavareei LLP FCA Litigation
IMS ExpertServices Litigation Consulting
Ward and Smith, P.A. North Carolina Real Estate
Davis Kuelthau Wisconsin Construction
Bilzin Sumberg South Florida Real Estate
von Briesen & Roper, s.c. TCJA Coverage
Michele J. Alexander Bracewell LLP Tax Law Reform
Horwood Marcus & Berk Chartered Illinois State Tax
Tribal Law     
Godfrey & Kahn S.C. Tribal Law News
About the National Law Review: The National Law Review is a daily legal news website with a mission to provide objective, reliable and practical litigation, legislative and administrative news and analysis. The NLR's online platform was developed by in-house attorneys, the online descendant of a legal publication that dates back to 1888. With the talents of our own writers and contributing authors, the NLR has grown into a leading legal news source. Visit us at NatLawReview.com
Share article on social media or email: