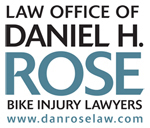 SAN FRANCISCO (PRWEB) November 26, 2018
The Law Office of Daniel H. Rose is proud to once again be a sponsor of Winterfest, the San Francisco Bicycle Coalition's annual member party, art show, bike auction and fund raiser attended by more than a thousand bicycle enthusiasts for an afternoon of festivities, food, music, and art. The event will be held on December 2, 2018, 2:00 – 6:00 p.m. in the County Fair Building in Golden Gate Park. This year the event is particularly family friendly, being held in the afternoon and featuring Family Zone and Family Bike Parade.
The San Francisco Bicycle Coalition (SFBC) is one of the oldest bicycle advocacy organizations in the United States. It was founded in 1971 by a group of activists representing a coalition of environmental and neighborhood groups. The organization quickly evolved into a powerful alliance of individuals working for a more bicycle-friendly city. The SFBC has been dominated by a grassroots volunteer ethic ever since, growing into one of the strongest cycling advocacy organizations in the country. Our law firm highly respects the SFBC's efforts and accomplishments.
The Law Office of Daniel H. Rose specializes in the representation of injured bicyclists and pedestrians throughout Northern California. The firm's founder, Daniel Rose, is one of the leading San Francisco Bay Area bicycle injury lawyers, known for his client dedication and success in representing accident victims and their families and promoting safe riding practices.
LAW OFFICE OF DANIEL H. ROSE
One Sansome Street, Suite 3500
San Francisco, California 94104
Tel: (415) 946-8900 Fax: (415) 221-0892
Share article on social media or email: