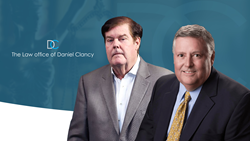 DALLAS (PRWEB) January 19, 2019
Two of Dallas' premier attorneys have joined forces under The Law Office Of Daniel Clancy. The criminal defense firm will now offer representation for personal injury cases through attorney and Dallas native John Neuhoff. John joins Daniel Clancy at his law firm with locations in Uptown Dallas and Austin, Texas.
Daniel Clancy is a long time Dallas/Fort Worth attorney, offering an array of criminal defense services. Mr. Clancy represents individuals charged with criminal offenses in both State and Federal Court. He provides representation for misdemeanors and complex felony cases.
Long time friend and colleague, John Neuhoff has had a civil practice in Dallas for many years. A Tulane Law School grad, he joins Daniel Clancy as "Of Counsel" to The Law Office Of Daniel Clancy, specifically to provide legal services to accident victims. These areas of practice are:
Personal Injury
Wrongful Death
Car Accidents
Truck Accidents
Product Liability Claims
John Neuhoff officially became "Of Counsel" The Law Office Of Daniel Clancy on January 15, 2019. He has successfully represented both plaintiffs and insurance companies in litigation. Through his work as a mediator, he gained experience in the settlement of complex personal injury cases. The plan to work together had been in the works for close to 6 months before the new year. Clancy and Neuhoff look forward to working together to provide enhanced legal services to their clients.
The firm office is located at 3131 Mckinney Avenue, Suite 800 in Dallas, Texas. A second office is located at 1100 West Avenue in Austin, Texas. For information on both Daniel Clancy and his law firm, as well as John Neuhoff, visit danielclancy.com and danielclancy.com/personalinjury online.
Share article on social media or email: