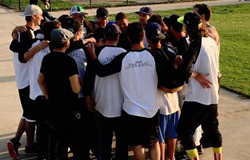 The Last House also runs an intensive outpatient drug treatment facility that provides a higher level of care, Thrive Treatment.
(PRWEB)
September 13, 2017
The Last House Sober Living just released a new video by Last House alumni, Mike Leary a professional extreme sports video Director, Editor, and Producer. Hear from graduates of The Last House in this new video that explains what The Last House does and how it has effected the lives of many residents and graduates. This sober living network has a unique and effective approach at battling addiction that has proven to be successful since 2010. The Last House Sober Living is a network of structured recovery homes located in the heart of West Los Angeles. Their mission is to provide a safe, fun, program-oriented setting where residents can find purpose, progress, and build a foundation for a life that is not only free of drugs and alcohol, but flourishing in all aspects. The Last House sober livings staff consist of active members of the Los Angeles Sober Living recovery community and come with years of experience, professional backgrounds, counseling certifications and various expertise in health, wellness and employment services.
Through this unique program, residents gain access to one of the largest recovery networks in North America; the Los Angeles sober living recovery community. The men that join The Last House receive the tools one needs to launch as a self-sufficient, self-reliant, self-motivated individual with a close peer group in the houses that they can rely on to go through a part of life that may be difficult, yet if committed to, can be a transformative opportunity.
The Last House prides itself on the residents of past that have graduated the program, giving back to the community and to its newest residents, and considering The Last House as a safe place to ground them.
Visit the last house: TheLastHouse.net
Thrive Treatment begins by creating outpatient drug treatment that is accessible and well-structured for clients to safely make mistakes and learn new skills. The treatment team has over 30 years of combined clinical expertise, models respect and integrity, while offering everyday tools to make better choices to stay clean and sober through evidenced-based clinical approaches like DBT, CBT, Trauma-focused and Mindfulness modalities. Thrive Treatment upholds the nuts and bolts of life like accountability, values, life skills, boundaries, trust and responsibility to help clients learn to manage sobriety and the anxiety that comes along with living life sober. Thrive helps to process and discard the self-defeating stories and behaviors that keep people stuck. Thrive has also built a community of people who are in it with the client's families and loved ones for the long-haul. Thrive Treatment prides itself on keeping clients connected to their new community long after completion of treatment and are invested in helping them find purpose beyond sobriety.
The founder of Thrive Outpatient Treatment collected some of addiction treatment's most respected and successful clinicians who authentically share a passion for helping others flourish and believe in the same key ingredients to long-term recovery success: values, accountability, life skills, and having fun in recovery.
Thrive is a close-knit treatment family and takes a compassionate, but no-fluff approach. The Thrive treatment team understands first-hand how hard it is for those who struggle with addiction. Integrity is most important to Thrive. It's that simple at Thrive Treatment.
Share article on social media or email: