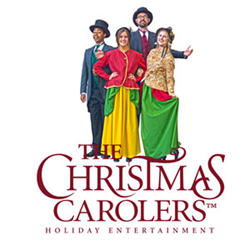 "My singers bring something unique to the table at every performance. Dressed in traditional Victorian-styled costumes and performing a' cappella carols our customers are typically blown away by the whole experience." Kenyon Ross
Los Angeles, CA (PRWEB) September 19, 2017
The Christmas Carolers are back in LA in 2017, the company proudly announced, and this time they're hoping for an even bigger business boom.
In 2016, the Christmas Carolers reached the amazing milestone of having done business for 20 years. For those two decades, the singers have delivered doses of Christmas spirit nationwide in such major cities as Dallas, Miami, New York City, Boston, and Atlanta.
The Christmas Carolers are no secret in LA. They've had many successful seasons here in the past, performing at corporate Christmas parties and other holiday events. With their a cappella singing and love for the holidays, the carolers are a must-have at Christmas business functions.
Founder Kenyon Ross couldn't agree more. He's hoping the Christmas Carolers have a banner 2017 in LA. "My singers bring something unique to the table at every performance," he said. "They have a long list of songs they'll perform. They always come dressed in traditional Victorian-styled costumes. Our customers are typically blown away by the whole experience."
The Christmas Carolers and their brand of holiday entertainment are officially available as of this writing. Area businesses that want to make their Christmas parties spectacular shouldn't wait to book. The carolers' availability tends to fill up fast.
About the Christmas Carolers
Founded in 1996 by Kenyon Ross, the Christmas Carolers, LLC. is based in Birmingham, Alabama. Today, the Christmas Carolers has offices in 11 U.S. markets and is the the only nationwide caroling company, including Los Angeles.
Office Locations: New York, Chicago, Boston, Philadelphia, Washington DC, Atlanta, Birmingham, Miami, Dallas, Houston, Los Angeles.
The Christmas Carolers are known for their affordable rates yet high-quality performances. Customers can choose from old classics like "Blue Christmas," "Here Comes Santa Claus," "Rockin' Around the Christmas Tree," and "Silent Night." These songs always bring back warm childhood memories of Christmases past.
To learn more about the services offered by the Christmas Carolers or book them for an event in Los Angeles today, call toll-free at 833-CAROLER (833-227-6537) or visit the http://www.thechristmascarolers.com
###
Share article on social media or email: