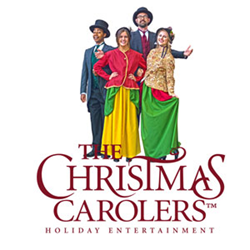 "It really is go big or go home this season, and the Christmas Carolers go big. We've been to Houston in past years and it's always been an incredible experience. This year, we're looking forward to a busy season." -Kenyon Ross
HOUSTON (PRWEB) November 02, 2017
Everything's bigger in Texas, even the Christmas cheer. The Christmas Carolers are hoping to spread that cheer around even further as they announce the start of their 2017 season.
The Christmas Carolers perform at holiday work parties and events. They come dressed professionally and traditionally in Victorian-styled costumes. These costumes will certainly stand out, as they were created by an award-winning costume designer.
Now entering their 21st season, the Christmas Carolers have been the go-to company for holiday entertainment for decades. Just some major cities that can't get enough are Atlanta, Boston, Miami, New York City, and Philadelphia.
Founder Kenyon Ross believes the carolers could have their most successful year yet in Houston. "It really is go big or go home in this city, and the Christmas Carolers go big. We've been to Houston in past years and it's always been an incredible experience. This year, we're looking forward to a busy season."
Houston businesses that are interested in scheduling the Christmas Carolers for their office holiday party shouldn't wait. Availability is limited, especially as the Christmas season approaches.
About the Christmas Carolers
The Christmas Carolers, LLC was founded in 1996 by Kenyon Ross in Birmingham, Alabama. As the only nationwide caroling company, the Christmas Carolers are known for their beautiful performances and affordable rates. Today, the Christmas Carolers has offices in 11 U.S. markets and is the the only nationwide caroling company.
Office Locations: New York, Chicago, Boston, Philadelphia, Washington DC, Atlanta, Birmingham, Miami, Dallas, Houston, Los Angeles.
Customers can choose how many carolers they want for their event (groups of three up to groups of six) as well as where they'd like the carolers to stand for the duration of the event. The carolers can even roam the event, singing from table to table.
The list of songs available from the Christmas Carolers is nearly endless. Just some available choices are "Here We Come A-Caroling," "O Little Town of Bethlehem," "Merry Christmas, Darling," and "First Noel."
To learn more about the services offered by the Christmas Carolers or book them for an event in Houston today, call toll-free at 833-CAROLER (833-227-6537) or visit the http://www.thechristmascarolers.com
Share article on social media or email: