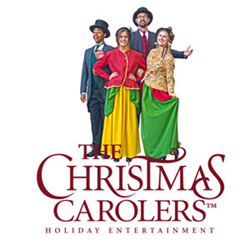 'The carolers are starting their 21st season in Chicago. We're hoping to perform a lot in the Windy City this year. Between our affordable rates and fast booking, we make it really easy to schedule the Christmas Carolers.' Kenyon Ross
Chicago, IL (PRWEB) October 17, 2017
The Christmas Carolers are preparing for their 21st season in Chicago, and they and founder Kenyon Ross have high hopes.
It's never too soon to start thinking about scheduling a corporate Christmas party. The Christmas Carolers have enchanted and delighted at these events in Chi-Town since 1996. As the only nationwide caroling company, they always arrive in ornate Victorian-styled costumes, which are made by an award-winning costume designer.
The carolers perform all their songs a cappella. Chicago businesses are always enchanted with the quality of these performances, which win hearts and put everyone in the Christmas spirit.
Founder Kenyon Ross believes this year could be a big one for the Christmas Carolers. "The carolers are starting their 21st season in Chicago. We're hoping to perform a lot in the Windy City this year. Between our affordable rates and fast booking, we make it really easy to schedule the Christmas Carolers for a corporate event," he said.
Other cities in which the Christmas Carolers perform are New York City, Los Angeles, Philadelphia, Boston, Miami, and Atlanta.
Chicago businesses that want to book the Christmas Carolers for their holiday entertainment should do so early. As the holidays draw nearer, the carolers have very limited availability.
About the Christmas Carolers
The Christmas Carolers, LLC. was founded in Birmingham, Alabama by Kenyon Ross. For two decades, the carolers have brought their unique brand of Christmas cheer to holiday office parties across the country.
Beginning as a small, part-time venture, the Christmas Carolers grew over the years. Today, the Christmas Carolers has offices in 11 U.S. markets and is the the only nationwide caroling company.
Office Locations: New York, Chicago, Boston, Philadelphia, Washington DC, Atlanta, Birmingham, Miami, Dallas, Houston, Los Angeles.
The carolers will sing such songs as "Toyland," "The Holly and the Ivy," "Santa Baby," and "Carol of the Bells."
To learn more about the services offered by the Christmas Carolers or book them for an event in Chicago today, call toll-free at 833-CAROLER (833-227-6537) or visit the http://www.thechristmascarolers.com
Share article on social media or email: