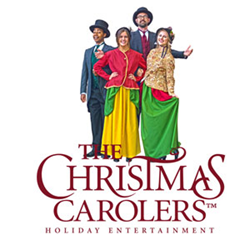 'Birmingham is where the magic all started. This is a very significant city for the Christmas Carolers, and this year we're going to give it our all and make it our best season to date.' Kenyon Ross
BIRMINGHAM, Ala. (PRWEB) November 08, 2017
The Christmas Carolers cannot wait for their homecoming in Birmingham. Starting their 21st season, they and founder Kenyon Ross believe the city will bring them major success in 2017.
The Christmas Carolers perform at holiday office parties and other events. They sing all their songs a cappella, meaning without any music. They also dress the part in stunning traditional Victorian-styled costumes. These outfits are so beloved the costume designer has received awards for their work.
Founder Kenyon Ross started the Christmas Carolers back in 1996. At that point, he was trying to earn some extra money for the holidays. He couldn't have anticipated how the carolers would grow.
Today, the carolers perform in major cities across the country. Besides Birmingham, these include Dallas, Los Angeles, Atlanta, Philadelphia, Miami, Boston, Chicago, Houston, Washington DC, Chicago and New York City.
"Returning to Birmingham is special though," says founder Ross. "Birmingham is where the magic all started. This is a very significant city for the Christmas Carolers, and this year we're going to give it our all and make it our best season to date," he said.
Availability will likely go fast for this homecoming. Birmingham businesses that want to book the Christmas Carolers certainly shouldn't wait.
About the Christmas Carolers
The Christmas Carolers, LLC has provided holiday entertainment for two decades. As the only nationwide caroling company, the carolers are known for their affordable rates and unforgettable performances. Today, the Christmas Carolers has offices in 11 U.S. markets and is the the only nationwide caroling company.
Office Locations: New York, Chicago, Boston, Philadelphia, Washington DC, Atlanta, Birmingham, Miami, Dallas, Houston, Los Angeles.
Whether it's a small holiday dinner or a bigger Christmas office bash, the Christmas Carolers always make these corporate events much more special. Customers can choose from an extensive list of holiday classics in which the carolers will perform. These include "Carol of the Bells" "Silver Bells," "God Rest Ye Merry Gentlemen," and "Winter Wonderland."
To learn more about the services offered by the Christmas Carolers or book them for an event in Birmingham today, call toll-free at 833-CAROLER (833-227-6537) or visit the http://www.thechristmascarolers.com.
Share article on social media or email: