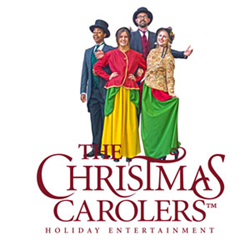 "The Christmas Carolers are always growing and expanding. By offering our services in two different parts of Texas, we're continuing that growth. This is a very exciting time for our carolers." Kenyon Ross
Dallas, TX (PRWEB) October 10, 2017
Texas is a big place, but the Christmas Carolers are up to the challenge. The company recently expanded its services to Dallas after many successful years performing in Houston.
The carolers bring their dazzling brand of holiday entertainment to Christmas office parties and other corporate holiday functions. Now in their 21st season, the Christmas Carolers have been the favorites of Houstonites for decades.
Founder Kenyon Ross is hoping to replicate that success in Dallas. "The Christmas Carolers are always growing and expanding. By offering our services in two different parts of Texas, we're continuing that growth. This is a very exciting time for our carolers. We can't wait to bring some Christmas spirit to Dallas."
The Christmas Carolers are beloved across the country. Other cities the carolers frequently perform are Philadelphia, Miami, Boston, Atlanta, New York City, and Los Angeles.
Known for their affordable rates, the Christmas Carolers never scrimp on quality. The singers arrive in professionally-designed Victorian-styled costumes that wow again and again. Their a cappella singing makes any Christmas office party unforgettable.
Dallas companies that want to book the Christmas Carolers for their own event shouldn't wait long. Availability tends to fill up fast, as the carolers are quite sought-after.
About the Christmas Carolers
Since 1996, the Christmas Carolers. LLC have spread Christmas cheer to companies and businesses around the country. Founded by Kenyon Ross, the Christmas Carolers are the only nationwide caroling company.
Starting small in Birmingham, Alabama, Ross slowly grew his company from a part-time venture to a more established presence. Today, the Christmas Carolers has offices in 11 U.S. markets and is the only nationwide caroling company.
Office Locations: New York, Chicago, Boston, Philadelphia, Washington DC, Atlanta, Birmingham, Miami, Dallas, Houston, Los Angeles.
Customers can pick the songs the carolers will perform to create the perfect ambiance for their holiday event. Some of those Christmas classics are "Oh Come All Ye Faithful," "We Three Kings of Orient Are," "Away in a Manger," and "Jingle Bell Rock."
To learn more about the services offered by the Christmas Carolers or book them for an event in Dallas today, call toll-free at 833-CAROLER (833-227-6537) or visit the http://www.thechristmascarolers.com
###
Share article on social media or email: