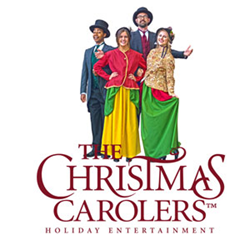 "The Christmas Carolers are revered across the country. Atlanta in particular is a favorite for the carolers. We're hoping to have a very successful 21st season here." Kenyon Ross
Atlanta, GA (PRWEB) September 26, 2017
The Christmas Carolers are gearing up to start their 21st season, and one of the cities they're most excited to perform is Atlanta.
The carolers, who provide holiday entertainment at corporate Christmas parties and other functions, have sung in the city for decades, and Atlanta businesses have always been especially receptive.
The demand is high for the Christmas Carolers. Other major cities in which the singers perform are Boston, Miami, New York City, Los Angeles, Chicago, and Philadelphia. It seems that nationwide, companies cannot get enough.
The Christmas Carolers always shine in their performances. They bring Christmas cheer wherever they go in their beautiful Victorian-styled costumes. All their songs are sung a cappella, which means without any music.
Despite the high-quality performances, the carolers offer affordable rates. According to founder Kenyon Ross, this is one part of the company's winning formula. "The Christmas Carolers are revered across the country. Atlanta in particular is a favorite for the carolers. We're hoping to have a very successful 21st season here."
Atlanta companies that want to add a dash of Christmas spirit to their parties and events this year shouldn't hesitate to reach out to the Christmas Carolers. Availability will become limited as the holidays approach.
About the Christmas Carolers
The Christmas Carolers LLC was founded by Kenyon Ross in Birmingham, Alabama. As the only nationwide caroling company, the Christmas Carolers have provided holiday cheer for businesses across the country since 1996. Today, the Christmas Carolers has offices in 11 U.S. markets and is the only nationwide caroling company.
Office Locations: New York, Chicago, Boston, Philadelphia, Washington DC, Atlanta, Birmingham, Miami, Dallas, Houston, Los Angeles.
When booked for an event, the carolers will sing from a lengthy list of Christmas classics. These include "Christmas Time Is Here," "Oh, What a Merry Christmas Day," "Joy to the World," and "O Come, O Come, Emmanuel."
Customers can also choose how many carolers they want for their event (up to six), for how long, and where they want the carolers to stand during the event. These talented singers can even go from one table to another and perform.
To learn more about the services offered by the Christmas Carolers or book them for an event in Atlanta today, call toll-free at 833-CAROLER (833-227-6537) or visit the http://www.thechristmascarolers.com
###
Share article on social media or email: