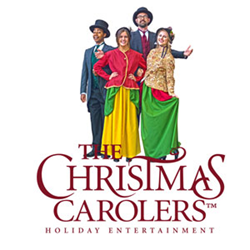 "Miami is a great place for our carolers to perform. Even though there's no snow on the ground, the city loves Christmas in a big way, and so do we. We can't wait for another successful season in 2017." Kenyon Ross
Miami, FL (PRWEB) October 24, 2017
The Christmas Carolers have proudly announced the start of their 21st season of holiday entertainment in Miami today. Founder Kenyon Ross has a feeling that 2017 could be the biggest year yet for his carolers.
Although the city doesn't get much wintry weather, Miami companies have been enamored with the Christmas Carolers' good-natured holiday cheer for decades. The carolers have also delivered Christmas spirit like only they can in such cities as Atlanta, Boston, Dallas, New York City, and Los Angeles.
Now in their 21st season, the carolers are ready to provide more holiday entertainment for office Christmas parties and other corporate events. The singers will return in their beloved Victorian-styled costumes, which are put together by an award-winning professional designer.
Another tradition to expect this season? The affordable rates heralded by the Christmas Carolers.
Founder Kenyon Ross is very excited to kick things off. "Miami is a great place for our carolers to perform. Even though there's no snow on the ground, the city loves Christmas in a big way, and so do we. We can't wait for another successful season in 2017."
Miami businesses that are interested in scheduling the Christmas Carolers are encouraged to do so early. Availability can go fast.
About the Christmas Carolers
The Christmas Carolers, Inc. was founded in 1996 in Birmingham, Alabama. Kenyon Ross started the company as a part-time project. It eventually grew legs and today, the Christmas Carolers are a major hit. Today, the Christmas Carolers has offices in 11 U.S. markets.
Office Locations: New York, Chicago, Boston, Philadelphia, Washington DC, Atlanta, Birmingham, Miami, Dallas, Houston, Los Angeles.
As the only nationwide caroling company, the carolers can sing at a Miami corporate event in small groups (of up to three) or bigger groups (of up to six). Customers can plan the songs that will be performed ahead of time, choosing from favorites like "Grandma Got Run Over by a Reindeer," "The First Noel," and "Santa Claus Is Coming to Town."
To learn more about the services offered by the Christmas Carolers or book them for an event in Miami today, call toll-free at 833-CAROLER (833-227-6537) or visit the http://www.thechristmascarolers.com
Share article on social media or email: