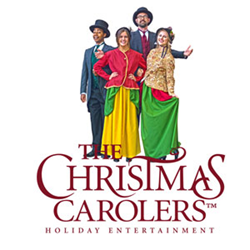 "The Christmas Carolers have always put on a dazzling show for companies in Boston. Even with our carolers' ornate costumes and amazing voices, we pride ourselves on our affordable rates. It's also really easy to book." Kenyon Ross
Boston, MA (PRWEB) November 01, 2017
It's beginning to look a lot like Christmas, at least to the Christmas Carolers. Today, the company happily announced its availability in 2017 for the city of Boston and surrounding areas.
As the only nationwide caroling company, the Christmas Carolers have a proud list of locations they perform in, Boston included. Other such staple cities are New York City, Miami, Los Angeles, Atlanta, and Dallas.
Boston companies that are planning a Christmas party are encouraged to call the Christmas Carolers. Since 1996, these carolers have livened up Christmas office parties and other events.
The singers always arrived dressed in Victorian-styled costumes, which are made by an award-winning designer. Their a cappella songs have charmed Boston businesses for years.
Founder Kenyon Ross stresses the affordability of his company. "The Christmas Carolers have always put on a dazzling show for companies in Boston," Ross said. "Even with our carolers' ornate costumes and amazing voices, we pride ourselves on our affordable rates. It's also really easy to book."
Area businesses that want to embrace the spirit of Christmas this year should schedule an event soon. The carolers tend to get booked fast.
About the Christmas Carolers
The Christmas Carolers, LLC are a nationwide caroling company founded by Kenyon Ross in 1996. The company started in Birmingham, Alabama as a small part-time venture. Over the years, Ross has expanded his company, finding more carolers to entertain companies in different parts of the country. Today, the Christmas Carolers has offices in 11 U.S. markets and is the the only nationwide caroling company.
Office Locations: New York, Chicago, Boston, Philadelphia, Washington DC, Atlanta, Birmingham, Miami, Dallas, Houston, Los Angeles.
There's a nearly endless song list customers can choose from when booking the Christmas Carolers for a corporate event. Just some of these are "Feliz Navidad," "We Wish You a Merry Christmas," "Frosty the Snowman," and "Angels We Have Heard on High."
To learn more about the services offered by the Christmas Carolers or book them for an event in Boston today, call toll-free at 833-CAROLER (833-227-6537) or visit the http://www.thechristmascarolers.com
###
Share article on social media or email: