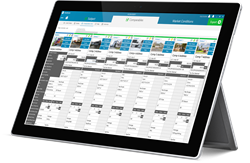 DataMaster 6 is the newest version of the industry-leading data import software, providing new features and empowering appraisers with the right data at the right time to make the right decision.
LAYTON, Utah (PRWEB) January 16, 2018
DataMaster, the gold standard for MLS and public record data import has released the most advanced update to its platform in its history. Built new from the ground up, DataMaster 6 allows the appraiser to be in total control the data. DataMaster 6 allows all of the data in the MLS to be available to the appraiser in the Sales Comparison grid, including all the MLS photos.
DataMaster 6 is much more than a simple software update; it represents a major step forward in empowering appraisers and their workflows and builds on DataMaster's tradition of providing complete MLS and public record data to appraisers.
"I have been using the new DataMaster beta version for several months now, and it is remarkable!" said Matthew Meyer, Owner, Meyer Appraisals of Portland, Oregon, "New features, easier customization, quick learning curve and more flexibility designed specifically for appraiser needs. Completing an appraisal without DataMaster is painstaking. I can't survive without it."
DataMaster 6 empowers appraisers to
Choose between MLS, public record or other data sources
Determine location and view and quality and condition within DataMaster
View all MLS property photos
Utilize DataMaster's exclusive digital MLS listing sheet
Safeguard reports with consistent Uniform Appraisal Data (UAD) compliant formatting
Leverage DataMaster's patented data import and rich field mapping process
And much more
"Because of DataMaster's licensing agreements with MLSs across the United States, DataMaster has access to the backend database for each MLS. Those agreements give us access to all the pertinent information in the MLS and DataMaster 6 allows us to present that information in a way that is beneficial to the appraiser. DataMaster 6 allows us to collect information from multiple sources including RETS databases, public records, and others. These sources contain much of the property data real estate professionals rely on and regard as the backbone of their organizations." says Kevin White, President, and CEO of DataMaster, "Our unmatched access to data allows us to utilize our patent for importing data from multiple sources and format it for compliance."
DataMaster 6 was built with appraisers in mind, giving them the tools to save time and use their individual experience and competencies to play an integral part in the property purchase process.
Visit http://www.datamasterusa.com/next for more information.
Share article on social media or email: