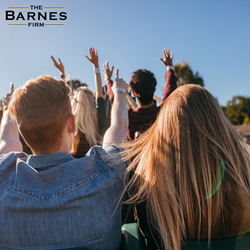 LOS ANGELES (PRWEB) August 03, 2018
In order to improve safety for everyone throughout the summer, personal injury attorneys at The Barnes Firm are urging families to be mindful of the significant risks of injury that many amusement park rides present during the summer months.
It wouldn't be summer without a spin on the Ferris wheel or a thrilling ride on a roller coaster. Unfortunately, these fun times can quickly turn dangerous for families.
According to a study from the Nationwide Children's Hospital, more than 4,400 injuries happen every year to children under the age of 18, and more than 70% of these injuries happen during the summer months at these kinds of packed venues.
A common concern is with carnivals and mobile fairs, where rides are assembled and moved to different locations across the state. In the past, maintenance on these rides has been notoriously scarce. Additionally, there's inconsistent regulation of amusement parks nationwide. Ultimately, both mobile and fixed parks safety regulations are often left to state and local governments.
Injuries to children can occur at any amusement park, often due to the equipment failure, defects in the design, improper maintenance and operation, poor lighting, recklessness, or inadequate security.
Although injuries can't always be predicted, The Barnes Firm is urging families to take the necessary precautions and utilize the best practices for amusement park safety.
1. Always follow all posted height, age, weight, and health restrictions.
2. Ensure proper seating and safety instructions, such as sitting properly and using the proper safety equipment (seat belts, safety bars, etc.)
3. Avoid rides which look precarious or unstable
4. Report any suspicious rides or operating staff
If you or a family member has been injured at an amusement park or fair, our amusement park accident attorneys are available 24/7 to answer your questions and help provide direction. Call The Barnes Firm now at 1-(800) 800-0000 to contact a California personal injury attorney.
Share article on social media or email: