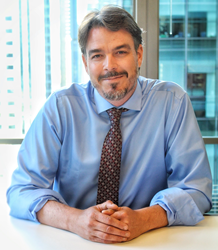 I am honored to be selected for this opportunity to build on the incredible legacy of The Arc San Francisco. As we look to the future, I am excited to partner with the people supported by The Arc, their families, our staff, and our community stakeholders as we work together to transform the lives of
SAN FRANCISCO (PRWEB) August 01, 2018
The Arc San Francisco today announced the appointment of Matthew Tarver-Wahlquist as the agency's new Chief Executive Officer.
"We are excited to bring someone with Matt's extensive nonprofit and disability experience into this role and look forward to his leadership as we enter a new chapter for The Arc San Francisco," said Ellen Hanscom, Chair, Board of Directors. "He is a strong, team-focused leader with a deep commitment to fiscal responsibility while advancing the programs that change lives and enrich our community."
A graduate of Dartmouth College with post-graduate work in Russian Studies, Matt has more than 15 years of direct service experience and management of programs for people with developmental disabilities.
Tarver-Wahlquist served most recently as Vice President and Chief Operating Officer of Lifehouse, San Rafael, CA overseeing operations of all independent living and community programs for over 200 individuals with developmental disabilities. He also includes three years as Director of Residential Programs and Client Services at The Cedars of Marin and eight years at Opportunity for Independence in his prior experience.
He is a member of the Board of Directors of the Golden Gate Regional Center, and Co-Chair of the GGRC Service Provider Advisory Committee (SPAC), in addition to his membership on the Steering Committee of the Marin Autism Collaborative.
"I am honored to be selected for this opportunity to build on the incredible legacy of The Arc San Francisco," said Tarver-Wahlquist. "As we look to the future, I am excited to partner with the people supported by The Arc, their families, our staff, and our community stakeholders as we work together to transform the lives of adults with developmental disabilities."
ABOUT THE ARC SAN FRANCISCO
The Arc San Francisco is a lifelong learning and achievement center for over 800 individuals with developmental disabilities in San Francisco, San Mateo, and Marin counties. For over 65 years, The Arc SF has been widely recognized for innovation in education and career programs as well as independent living services, health advocacy, and a broad range of arts and recreation opportunities. The Arc supports individuals with autism, Down syndrome, and other disabilities to meet the challenges of adulthood while achieving personal goals and lifelong success. Our affiliations with over 100 business, education, and health partners help us to provide successful internships and employment opportunities while offering a more diverse, enriching life experience.
Share article on social media or email: