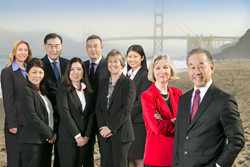 "Teraoka closes deals ... Bridging the Pacific"
SAN FRANCISCO (PRWEB) August 08, 2018
For the past 42 years, Steve has managed Teraoka & Partners LLP, a pre-eminent Pacific Rim law firm, focused on advising global companies on international corporate and business transactions, mergers and acquisitions, employment, real estate leasing and acquisitions, executive immigration and civil litigation.
Throughout the decades, Steve Teraoka and Partner Catherine Gormley have led the firm's team of attorneys in completing multi-million dollar mergers and acquisitions in addition to counseling publicly traded Japanese companies on a wide variety of cross-border transactions.
The City by the Bay as well as the greater San Francisco Bay Area has undergone many changes since the establishment of the firm. With those changes, Teraoka & Partners has successfully expanded its practice to include a Palo Alto, Silicon Valley office as well as a Los Angeles office to serve its corporate clients operating globally. "Responsiveness, competence, and results are the universal attributes all clients seek." Steve instills these attributes in the attorneys in his firm. Keeping this ideal in mind has served the firm well as it continues to represent notable companies such as Kikkoman Sales USA, Inc., JFC International Inc., Kameda Seika Co., Ltd., Azuma Foods International Inc., U.S.A., Goldilocks Bake Shop, Sega Networks, Furukawa Sangyo, NTT Facilities U.S.A., Inc., Nomura Research and certain of its U.S. based affiliates, Boundary Bend Olive Pty., Ltd. (Australia) and its U.S. affiliates, and Daiso Stores.
The road to success has also been filled with pro-bono efforts, volunteer leadership, and community service. In 1976, Steve joined the Japanese Chamber of Commerce of Northern California ("JCCNC"), an organization dedicated to facilitating the successful establishment and growth of Japanese businesses in the U.S. In 1994, Steve was elected JCCNC President and welcomed Their Majesties the Emperor and Empress of Japan on their historic Royal Tour to San Francisco. To present, he has continued to serve on the JCCNC Board of Directors and finds the relationships and connections he has built up over the years to be rewarding. More recently, Steve has been active with Best Buddies International, a nonprofit dedicated to securing persons with intellectual and developmental disabilities. In addition, Teraoka & Partners actively serves the community by providing pro-bono legal assistance, including the recent formation of California Clubhouse as a nonprofit organization serving mentally disabled youth as well as the California Japan Sister Cities Network, a nonprofit organization serving over 100 California cities with sister cities in Japan. Giving back to the community has been essential for Steve's trajectory. He believes in putting positive energy out in the community and the world, and seeing the dynamics of the "ripple effect" come into play to make this world a better place to live.
As year 2020 approaches, Teraoka & Partners LLP intends to expand its footprint and its presence with its 2020 vision to double in size. Most importantly, the firm intends to continue its reputation for legal excellence in cross-border business transactions, particularly those involving the Pacific Rim and Japan.
Share article on social media or email: