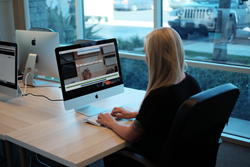 The Last Website You'll Ever Need
Rancho Cucamonga, CA (PRWEB) October 11, 2017
THrivonline.com, an offshoot of the main Tec 4 Digital business, has been developed as a comprehensive, all-in-one web design and hosting platform, targeted specifically at small-to-medium-sized enterprises (SMEs).
Utilizing the web development expertise developed at Tec 4 Digital, THrivonline.com promises to revolutionize the way that smaller businesses market themselves online, with affordable fully-managed website packages.
THrivonline.com – "The Last Website You'll Ever Need"
Using cutting-edge website design tools and unique, proprietary templates, THrivonline.com promises to provide customers with beautiful, simple, and reasonably-priced website hosting and management.
Customers using THrivonline.com will enjoy a completely hands-off website management experience. THrivonline.com provides a truly "end-to-end" website management service. From hosting, to management, administration, content publishing, and day-to-day maintenance, the ThrivOnline.com team will take care of every aspect of website administration.
The goal of THrivonline.com is to be "the last website you'll ever need." With advanced website management tools and the most cutting-edge web platforms available, websites built on the THrivonline.com platform will last for years to come.
THrivonline.com Offers Professional, Reliable Websites With No Service Contracts
THrivonline.com offers website services with no long-term service contracts. Companies of every size can choose to partner with THrivonline.com for their website, and will not be locked into a costly yearly contract. This helps ensure that THrivonline.com customers are satisfied with their service – if they aren't, they can cancel at any time.
Service contracts from THrivonline.com include regular updates and website support. In addition, customers who choose THrivonline.com will get a dedicated personal account manager, who will aid in the communication of website requirements to the development and administration team.
By providing affordable, no-contract website services, THrivonline.com hopes to empower small businesses with the tools that they need to compete in the modern, digital-focused world.
THrivonline.com Offers Flexible Pricing And Website Packages
THrivonline.com offers a variety of different website design packages. From smaller, informational websites, to robust websites that include online stores and other advanced features, the THrivonline.com platform can handle websites of any size.
With customized and flexible pricing based on the service, support, and web design needs of customers, THrivonline.com users will be able to design and build a website that fits both their business requirements and their budget.
For small businesses in need of a professionally designed, fully-managed website, THrivonline.com is certainly going to be a top contender. With a focus on modern, SEO-optimized websites, cutting-edge designs, and affordable pricing, THrivonline.com truly promises to be "The Last Website You'll Ever Need."
About THrivonline.com: Founded as a subsidiary company of digital marketing company Tec 4 Digital, LLC, THrivonline.com is a fully-managed website design and administration service. Focusing on customers running small-to-medium sized enterprises (SMEs), THrivonline.com is built to help streamline the process of creating, hosting, and maintaining a professionally-built website. https://www.thrivonline.com
Share article on social media or email: