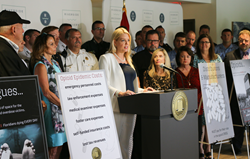 TAMPA, Fla. (PRWEB) May 18, 2018
Surrounded by law enforcement officials and families of opioid addiction victims, Florida Attorney General Pam Bondi announced her comprehensive lawsuit Tuesday, May 15th in Tampa, Florida.
"We are not scared to take them on," Bondi stated during her press conference at Riverside Recovery of Tampa, a drug and alcohol rehabilitation center, referring to Purdue Pharma LP, Endo Pharmaceuticals, Inc., Janssen Pharmaceuticals, Inc., Cephalon, Inc. and Allergan, the large pharmaceutical companies that were listed in the suit.
According to Bondi, the drug companies published misinformation about opioids, and utilized "front groups" that marketed and campaigned for the use of opioids, while down playing their risky, addictive nature.
"These dangerous acts and practices have devastating consequences as you all know," Bondi said. "It's time the defendants paid for the pain and the destruction they have caused."
Lisa Brandy, whose daughter Brandi fell victim to her opioid addiction just 18 months after being prescribed opioid medication, knows the pain and destruction all too well.
"Don't blame the addict anymore and don't blame the parents," Brandy said. "Blame big Pharma for lying and knowing that they created this."
Florida is not the only state hoping to hold the pharmaceutical companies accountable for the opioid crisis. The states of Nevada, North Carolina, North Dakota, Tennessee, and Texas all filed lawsuits on Tuesday, joining hundreds of local governments who have already sued the manufacturers and distributors.
Share article on social media or email: