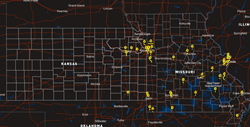 KANSAS CITY, Mo. (PRWEB) March 26, 2019
Wendt Law Firm, P.C. has released a comprehensive analysis of highways in Missouri and Kansas that identifies the deadliest stretches of road in each state.
This study analyzed two years of crash data from the National Highway Traffic Safety Administration's Fatality Analysis Reporting System (FARS), pinpointing 40 segments of state and federal highways where high concentrations of fatal collisions occurred from 2015 to 2016.
Kansas City accident lawyer Sam Wendt wanted to raise awareness of any highways that were more prone to fatal accidents than others. "We really wanted to educate residents in both states of any areas where serious motor vehicle collisions tend to take place more often," said Wendt. "Although we can't say for sure why crashes occur in these areas, we can at least advise others to maybe avoid driving these routes – or, at the very least, proceed with caution."
Totaling 260 miles of highway, these 40 segments accounted for 162 fatal collisions, leading to 182 fatalities in just a two-year period.
The deadliest highway segment of the study was a 0.16-mile stretch of US Highway 24 in Independence, MO, with a density of 19.1 fatal crashes per mile. In fact, Missouri was the location for most of the segments, accounting for all but six of the segments in the analysis – with the St. Louis metropolitan area and St. Louis County containing the most collisions and fatalities in the state.
Kansas had six deadly highway segments, the deadliest being a 0.69-mile section of Interstate 70 east of Lawrence. Of all major cities, Topeka had the highest number of deadly highway segments – despite having a lower population than other notable cities such as Kansas City and Wichita.
"We hope that this data not only informs residents of any dangers on the road, but also motivates city and state officials to re-evaluate these segments, and hopefully remedy any safety issues present on these roads," added Wendt.
For more information, the full study can be found here, and any further questions can be directed to:
Wendt Law, P.C.
1100 Main Street,
Suite 2610
Kansas City, MO 64105
Share article on social media or email: