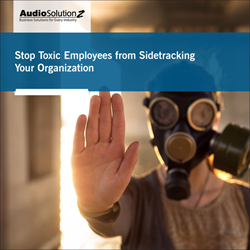 Don't let behavioral challenges sidetrack your own work, or your organization's productivity—Identify and manage toxic behavior before it becomes a crisis.
DURHAM, N.C. (PRWEB) May 10, 2018
AudioSolutionz, a division of audio conference and corporate education leader ProEdTech, will host the live webinar "Stop Toxic Employees from Sidetracking Your Organization: Live Webinar by AudioSolutionz" with industry veteran Carol Hacker on Tuesday, May 22, 2018 at 1:00 ET.
Toxic employees are one of the most common banes of corporate culture. They excel at complaining, backstabbing, and procrastinating, as well as distracting others from their work. Is there any way to keep a check on these troublemakers and prevent them from sapping the energy of everyone around them?
Find out from HR specialist Carol Hacker how to proactively identify and manage employees that show a propensity for toxic behavior—before they cause damage in the workplace. She'll demonstrate how to prevent such employees from becoming morale busters and how to set standards for positive behavior.
Plus, learn to work toward retaining the "challenging employees" who, in the long run, are worth the effort.
Walk away with dozens of practical tips for addressing specific, difficult-behavior problems! The session will help HR professionals, managers, team leaders and executives to:
Identify (and avoid) common mistakes for dealing with difficult employees
Implement coping skills when your frustration with a toxic employee hits the roof
Use the "I'm in your court" approach to discipline
Recognize toxic behavior before it becomes a crisis—and teach managers to do the same
Get toxic employees to agree that there is a problem
Master the goal of giving critical feedback without bruising egos and causing defensiveness
Understand "behavior blindness"
Build a workplace culture of trust where no one loses face and the outcome is "win-win"
Be a coach, not a cop—and take responsibility for how you are heard
Use positive reinforcement before you tell someone what he or she did wrong
For more information and to register, visit: https://www.audiosolutionz.com/hr-compliance-employment/dealing-with-toxic-employees.html
Get $40 off on our conferences and webinars. Use Code PRWEB40 on checkout (applicable for all purchases).
About ProEdTech
ProEdTech is a leading source of knowledge and training for professionals in over 15 industries, serving individuals, businesses and their employees around the globe. It offers webinars, online conferences, seminars, boot camps, books, DVDs, white papers, industry reports and other learning tools from industry experts and insiders who provide a fresh perspective on key issues, trends and regulations in order to simplify governance, risk and compliance (GRC) for enterprises and industry professionals. ProEdTech's AudioEducator webinars offer updates, regulatory knowledge and information on the latest news in various medical specialties, as well as coding and billing updates, and analysis of regulations that affect ambulatory surgical centers, home health, long term care and hospice facilities, hospitals and healthcare systems, health insurers and physician practices. Webinars are also offered through AudioSolutionz in the technology, human resources, construction and housing, ICT and telecom, manufacturing, consumer packaged goods and retail, safety and security, transportation, energy and environment, education, trade, and chemicals industries. ProEdTech's Eli Financial platform offers tax and banking professionals, focusing on providing high-quality online training products customized for U.S. lenders and tax practitioners that include the latest updates from the IRS, CFPB and other regulatory authorities. ProEdTech regularly provides professionals the opportunity to get answers to their most complex questions directly from experts, without having to attend costly live conferences. To learn more, visit: http://www.proedtech.com/.
Share article on social media or email: