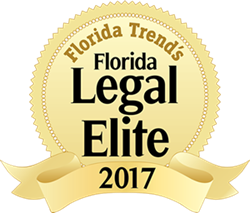 Fort Lauderdale, Florida (PRWEB) October 05, 2017
Robert H. Stein, P.A., of The South Florida Injury Law Firm in Fort Lauderdale was recently recognized in the 2017 edition of Florida Trend's Florida Legal Elite™. The list, published in the July issue of Florida Trend magazine, includes less than 1.5% of active Florida Bar members practicing in the state.
Robert Stein graduated from the University of Florida with Honors in 1994 with a B.A. in Criminology and Law and continued his studies at the University of Florida Levin College of Law, earning his J.D. with Honors in 1997. He has been practicing law for 20 years.
Mr. Stein wholeheartedly believes that no one should have to pay for the mistake of another and that it is important to shine a light on negligent acts so others are less likely to be harmed in the same way in the future.
About Florida Trend: For nearly 60 years, Florida Trend has served as one of America's most award-winning business publications, reporting on business and political news throughout Florida. The magazine and website offer a mix of hard-hitting investigative journalism and local color and remain committed to providing the best reporting on Florida anywhere.
About The South Florida Injury Law Firm: Since being founded in South Florida in 1991, The South Florida Injury Law Firm has helped countless Floridians to receive fair and just compensation for their injuries, while holding the responsible parties accountable for their negligent actions. The firm's legal team has won numerous awards, been featured in many local media outlets, and boasts over 100 years of combined experience handling a wide variety of personal injury and workers compensation cases.
Share article on social media or email: