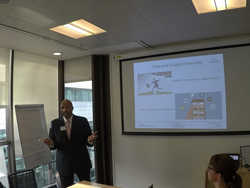 WOODBURY, Minn. (PRWEB) October 30, 2018
KnectIQ was deemed to have superior Cyber Security technology with far-reaching implications for helping mitigate privacy and security issues worldwide, and therefore was invited to become a founding member of the PrivacyRules consortium. KnectIQ along with 41 additional PrivacyRules members worldwide have come together to ensure data privacy through legal and regulatory counsel and tech solutions. The PrivacyRules consortium unites law and technology to provide a greater solution set than available when approaching the two separately. Legal and tech infrastructures are not cohesive, often leaving opportunity for outdated and noncompliant technology and unprotected data; a problem PrivacyRules sets out to correct.
"Privacy, regulatory and compliance happens in a legal vacuum. Instead of connecting the legal and tech frameworks related to data privacy, solutions are generally crafted in suboptimal silo-like environments," said Ken Morris, JD, Founder & CEO of KnectIQ, "PrivacyRules is not just about the law, it's leveraging the unique partnership and synergy between technology and the law."
KnectIQ is a leading global cybersecurity provider within PrivacyRules, uniting with tech firms and legal firms to provide a unique platform for current and effective global consultancy and solutions for all issues related to data privacy, confidentiality, and compliance – one example is GDPR compliance. This unified approach enables legal firms to give advice as well as present tech solutions optimized to fulfill the legal requirements. Clients can be assured that their cyber security technology is compliant, current, and transparent.
About KnectIQ:
KnectIQ's approach to cybersecurity is to create Trust Environments where people and enterprises may connect, collaborate and innovate in ways not likely today due to toxic levels of mistrust driven by fundamentally insecure processes and the misuse of data and information. KnectIQ aims to create Trust Environments where collaborators are free to unleash their best work. For more information visit https://www.knectiq.com.
About PrivacyRules:
PrivacyRules offers counsel, guidance, strategies and solutions from members of our international alliance. We provide the most advanced knowledge on matters related to privacy compliance, cybersecurity and data protection on a country-by-country basis and globally. For more information visit https://www.privacyrules.com.
Share article on social media or email: