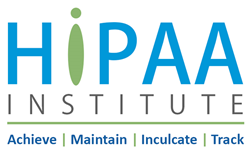 Your Once stop shop for HIPAA compliance products and services
Durham, NC (PRWEB)
September 14, 2017
If healthcare providers intend to develop a robust HIPAA compliance plan backed by comprehensive documentation, they should take advantage of HIPAA Institute's vast array of tools, templates, training, and support services, which are online solutions which eliminate the need for onsite installations.
Compliance Begins with Creating Policies and Procedures
HIPAA Institute has 83 templates to create the necessary policies and procedures (P&P), along with eight checklists which enable healthcare providers to identify gaps in them. With vulnerability assessment and risk assessment mandated by the Security Rule, providers might be gravely imperiled if they ignore carrying out these assessments. Healthcare providers must use these checklists to verify that all appropriate safeguards are in place.
Having created the P&P, providers mustn't sit on laurels. Providers must implement them vigorously by first training every team member; the HIPAA Institute provides considerable help in this area. They have compliance-focused interactive e-learning courses in both online and interactive video formats to help workforce with training.
For more information, visit - https://www.hipaainstitute.com/hipaa-templates
Understand the Importance of Protecting Patients' Health Information
Healthcare providers need to be careful about safeguarding protected health information (PHI) of patients. Apart from ensuring its integrity and confidentiality, they need to ensure that their entire team is aware of the requirements of HIPAA, HITECH Act, and the affiliated rules — the Privacy Rule, Security Rule, Breach Notification Rule, and the Final Omnibus Rule — to drive compliance. The HIPAA compliance guide on HIPAA Institute's website gives all the necessary information.
Automate to Speed up the Process
There are so many areas that must be covered to ensure complete compliance — as far as is reasonably possible — and the HIPAA automation tool, and varied toolkits help hasten the process. The risk assessment master provides a 52-step guidance with training schedules and a personal HIPAA coach. This compliance software helps drive HIPAA compliance for multiple locations and departments, enabling providers to carry out training, audits, and risk management online. It saves the trouble of setting up a separate department to carry out security functions for every geographic location.
What's more, healthcare providers get to enforce compliance through their business associates. Once providers have attained the compliance status, they will need to maintain it with regular internal audits and staying abreast of all the changes in the regulatory environment. With HIPAA Institute, providers will be able to get on with the real business of providing high quality patient care, rather than worrying about the probable compliance lapses.
Get $50 off on our HIPAA Compliance Tools by Using Coupon Code SE30 on checkout (applicable for all purchases).
About Company
HIPAA Institute, a part of ProEdTech, LLC, has developed a best-in-class, web-based solution that makes it faster, easier, and more cost-effective for organization to stay HIPAA compliant. HIPAA Institute's products and services are developed by leading HIPAA compliance experts of the industry. Our experts are leading consultants and educators in HIPAA-HITECH compliant topics with complete insight into Confidentiality, Integrity and Availability of patient health information in different forms like electronic, paper, etc.
Share article on social media or email: